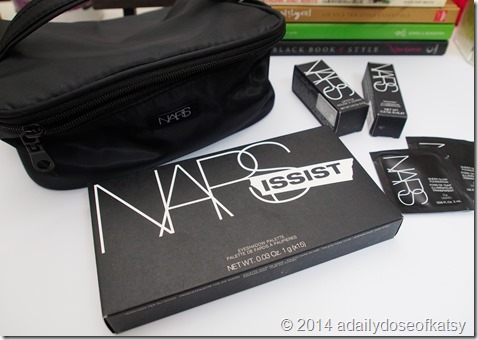 THE CALL OF THE NARSISSIST
You see I only wanted to get the Narsissist Eyeshadow Palette, an acquisition I will write about in a later post as it is quite a tale on its own. BUT I couldn't exactly resist a "freebie" such as this: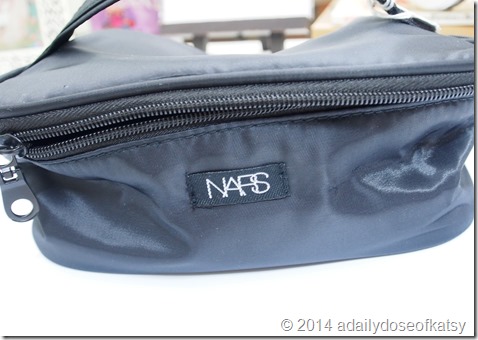 With a minimum purchase required (an amount that I was quite close to reaching with my original intention), I only needed to add one more Nars item to my cart and I will be going home with the Nars Travel Makeup Bag.
QUITE DETERMINED, AREN'T I?
Obviously, I wasn't able to resist even though I have been saving up any makeup purchases for our then upcoming Japan trip. I lacked a decent travel bag to house my makeup and I usually just ended with whatever pouch I can scrounge up in the house. Knowing that I had a couple of other trips lined up after #chasingsakura2014 , I simply couldn't pass up the chance of setting my standard – especially when I saw the built-in makeup brush holder.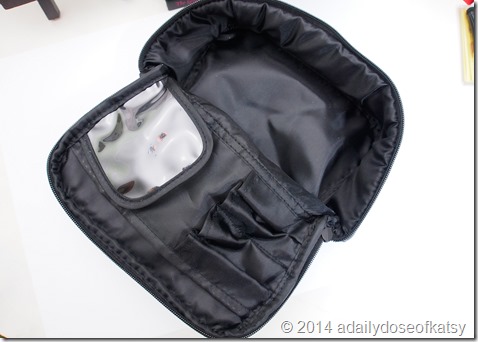 The zippered bag measured approximately 8" in length, 5" in width, and 3" in height when packed full. And believe me, pack it full I did. The brush holder has 4 built-in slots that fit my Real Techniques brushes easily. The transparent flap helped protect the rest of my makeup from any powder residue as I didn't  have enough time to thoroughly clean my brushes on our 8-day trip. We simply had too many sights to see and whatever time left was devoted to rest!
The black nylon material is easy to clean but I do wish that they printed the Nars logo on the bag instead of just stitching the tag on the front as it seems a bit flimsy to me. But I'm willing to overlook this practically minor detail as I am quite pleased with this bag.
BLACK CHIC
Overall, the Nars Travel Makeup Bag exudes that classic Nars aesthetic that I have come to love. It also easily fits my 2 LE palettes – Nars Guy Bourdin One Night Stand Blush Palette and Narsissist Eyeshadow Palette with plenty of room to spare. I could've traveled with just those two plus a whole lot of lipsticks.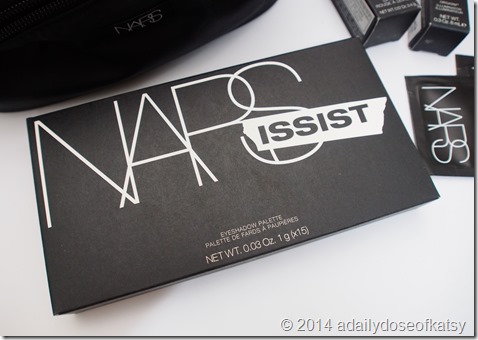 The Nars Lipstick in Funny Face was the no brainer final add-on to my shopping basket and rounded up my Nars haul.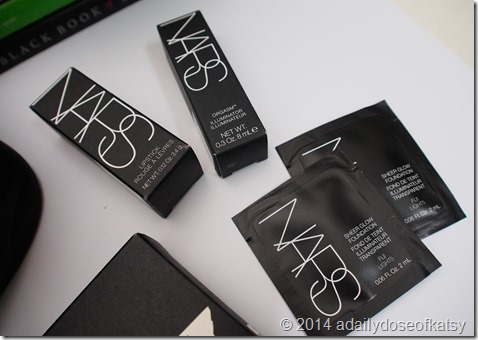 Also included as GWP was a mini  Nars Orgasm Illuminator as well as sample sachets of the Nars Sheer Glow Foundation in Fiji which wasn't my shade as I was told that it was Punjab. I'll still give it a whirl though as I'm quite curious about the bases that Nars has to offer.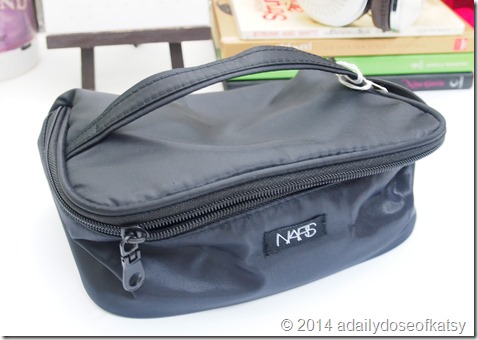 I'm quite the happy little camper with this Nars haul and I'll be sure to post reviews hopefully sooner than later. I still have plenty lined up as I return to regular programming after that much needed almost 2-week break. Happy summer everyone!
PS.
As I wrote in my previous post here, I am now officially self-hosting www.adailydoseofkatsy.com. As the nameservers' propagation continues, please bear with the transition as I know  some of the old links are broken. I try my best to make the move as seamless as possible but there are just some technical matters that are beyond my novice comprehension and require a bit more time. Again, I would really appreciate any comments you may have on this new layout as well as if the site works well on your end. Much cheers!