Summer is in full swing and we're still planning outings left and right. I do hope one pushes through yes? Schedules are hard to pin down but of course, we all love dreaming of beaches and road trips. Alongside those dreams (because I really like planning and organizing) is my shopping list of what I need/want with me during this season. So I went online shopping and chose my 10 Shopee Summer Must-Haves.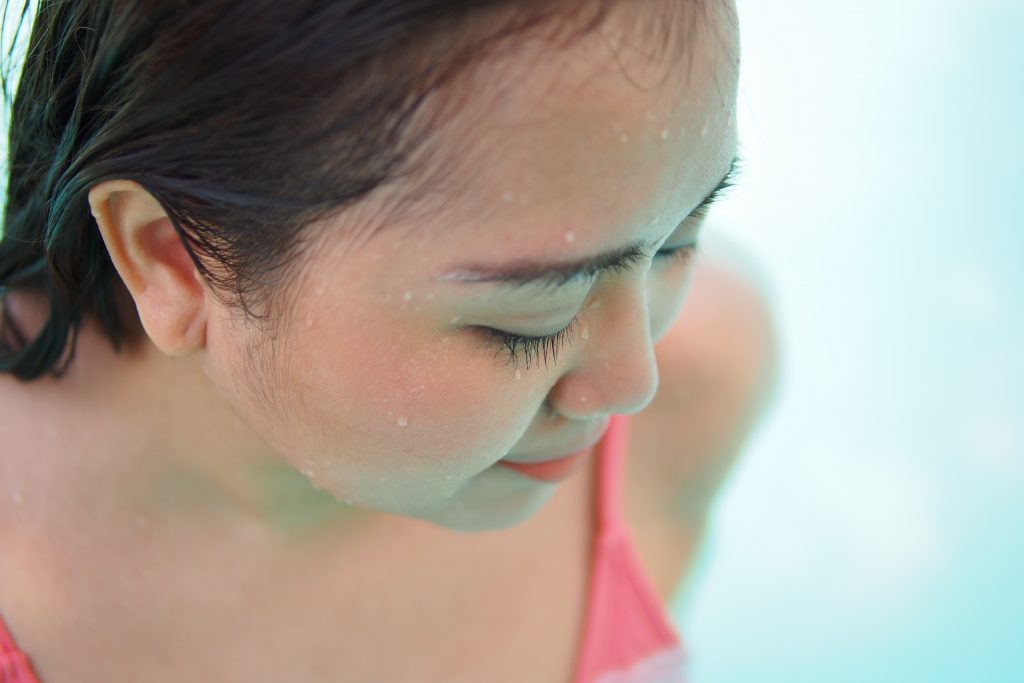 One | Banila Co It Radiant CC Sun Base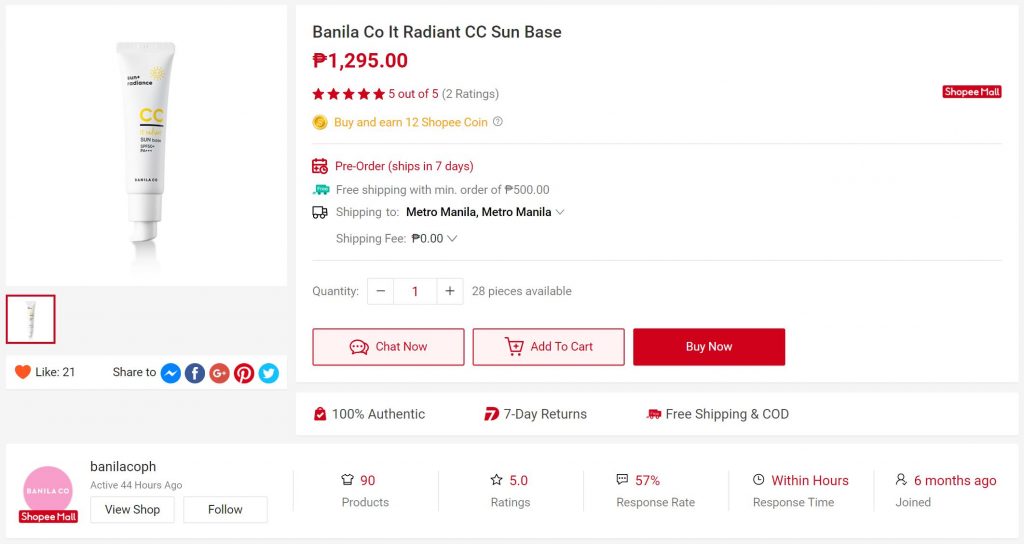 Because summer means extra, extra, extra heat, we need to level up our sunscreen! And since I love multitasking products and have previously tried Banila Co's CC Creams (I'm a fan of their Clean It Zero!), this Banila Co It Radiant CC Sun Base looks like the perfect addition to my daytime routine.
Two | MINI capsule umbrella

Speaking of protection, this MINI capsule umbrella is the cutest! I always make it a point to bring an umbrella not only to protect from sudden summer showers, but also to make sure that I don't get exposed to the sun more than I need to. And having an umbrella with you all the time makes it easy to do just that.
Three | Surplus Stainless Steel 500ml Vacuum Tumbler Flask (Red)

I also make it a point to bring drinking water with me everywhere. We definitely don't want to get dehydrated in this heat so this is an absolute must. This Surplus Stainless Steel 500ml Vacuum Tumbler Flask has a pretty design that I will be sure to remember to take on the road. The stainless steel material makes it easy to clean plus this actually retains the coolness or hotness of your stored liquid depending on the room temp where you are.
Four | Tiger Balm Mosquito Repellent Patch

And since we're on the subject of staying safe this summer, I'd also like to have a stash of this Tiger Balm Mosquito Repellent Patch on the go. I certainly want to be protected from mosquito bites wherever we may end up going for our vacation. I like the Tiger Balm Ointments so I went for this brand.
Five | Lucas Papaw Ointment

This next one is pretty popular with celebrities – the Lucas Papaw Ointment from Australia. I've actually tried it before but didn't quite appreciate it then so I thought I'd give it another try. I like how it promises to address dry skin while being a handy temporary solution for potential cuts and burns.
Six | ELF Baked Highlighter

We're halfway through my virtual shopping list and this next one is a must-have beauty item – highlighter! I have tried a lot of highlighters but this ELF Baked Highlighter is one of those cult favorite ones that I haven't gotten the change to try. I normally go for shades like Moonlight Pearls but the pinker shades look enticing too!
Seven | Simple Micellar Wipes

At the end of the day, my number one skincare rule is to never sleep with makeup no matter how tired I get! But we all have to admit that there are just those days where we're just too exhausted to move. Enter the Simple Micellar Wipes. If I'm wearing light makeup which is what I usually go for during summer, I can use this and my face will be clean. With a light moisturizer on top, I can go off to dreamland.
Eight | Travel Organizers 2-layer Packing Cube (Small)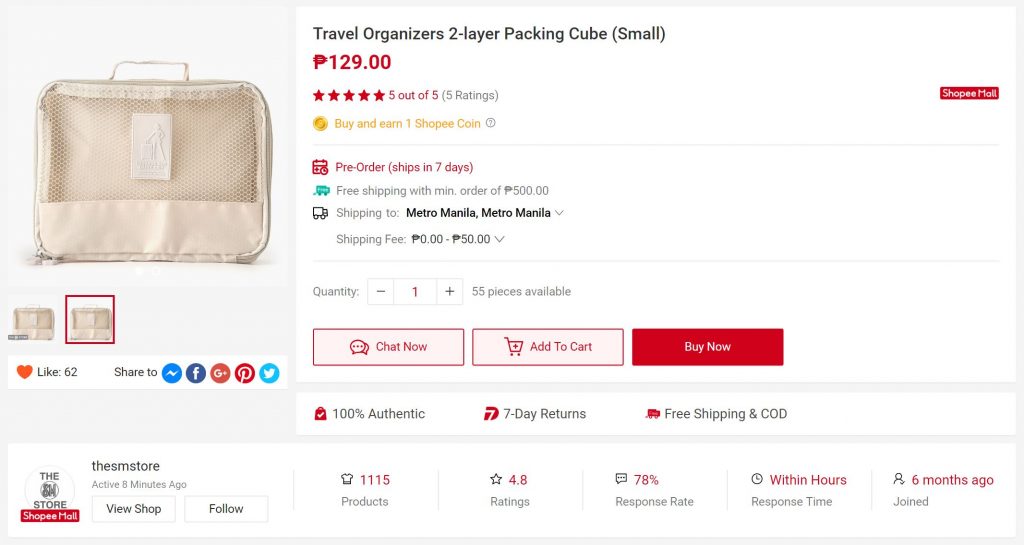 To pack everything up, I heavily rely on travel organizers. Even if I'm just going about my regular day, my stuff are still housed in pouches because they just make everything so organized. I saw this Travel Organizers 2-layer Packing Cube from the SM Store and thought that they'd be ideal to add to my collection. One can never have too many packing cubes!
Nine | KODAK Photo Printer Mini

These next two items are more of my dream must-haves. Since I love going around and taking photos. the KODAK Photo Printer Mini is something I've been eyeing for a long time. It connects easily via NFC or Wi-fi which I think would work well with my Wi-fi ready SD card.
Ten | Intex 28273 INTEX Small Frame Pool 4.5m x 2.2m x 0.84m

Yes, I need a pool! Well more of we need a refreshing break this summer and I got all giddy when I saw this Intex 28273 INTEX Small Frame Pool available on Shopee. There are other sizes to fit your space and I surely had a blast picking the one we'd love to get.
I had such fun picking out these items and now I'm all excited for the #ShopeePH55Sale! I'm pretty sure there'll be plenty more deals we can spot there. And yes, I've been saving up my Shopee coins!
Also, if you're new to Shopee, I have a code to get you P80 off your first purchase via the mobile app which you can download here. Just use my code BSUKIKATSY for purchases over P400 on products with Shopee Guarantee. This is valid until July 31, 2018.
What are you shopping for this #ShopeePH55Sale?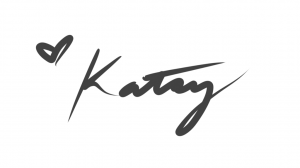 For more information plus special sales and promos, follow Shopee Philippines at their official social media channels – Facebook (@ShopeePH) and Instagram (@Shopee_ph).