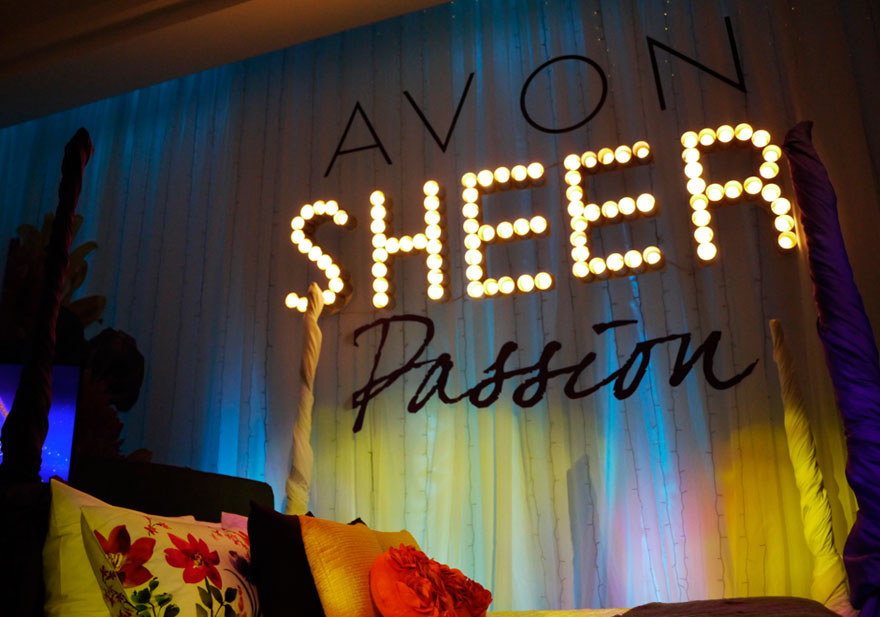 My mother is obsessed with fragrances. So is my best friend. They literally use perfume/cologne/basically any form of scent on the daily and even bring the bottles out on the road to make sure they can reapply and refresh themselves whenever. I on the other hand tend to keep a minimal fragrance wardrobe. With my signature scent in tow and just a few choice classics and newbies, I could win a capsule fragrance wardrobe award (maybe?). I do tend to experiment once in a while and when Avon and Jessy invited me to their fragrance launch, I knew I had to come.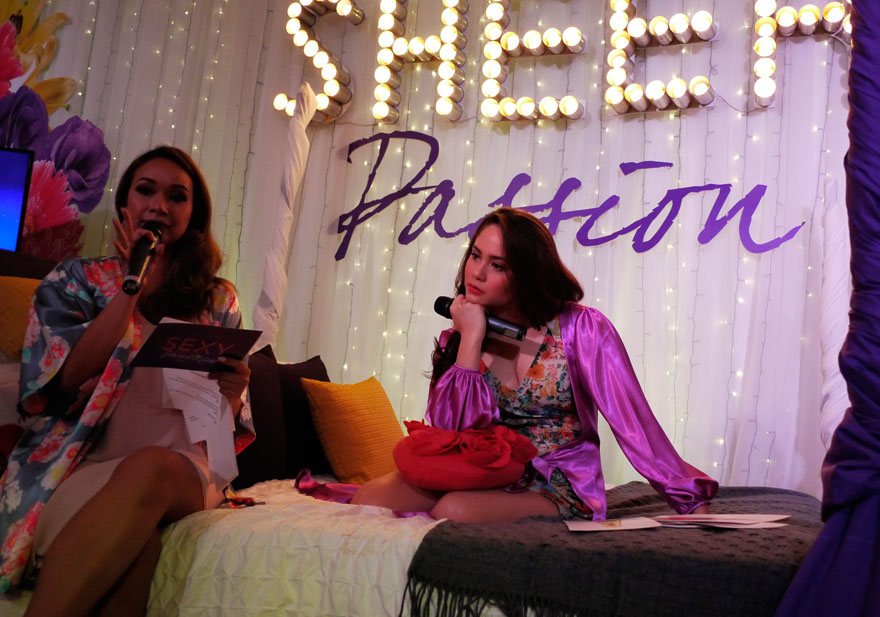 The Sexy Starry Night Slumber Party launched Jessy Mendiola for Avon Sheer Passion Fragrance Mists. The three variants, Simply Tempting, So Alluring, and Very Captivating are colorful, fun, and sexy scents all at once. I think they fit Jessy quite well and they did say that we were to discover "the lighter side of sexy". I honestly think that Jessy is full-on sexy though. She is super gorgeous in person and looks like a Barbie doll. Her figure is to die for also, one that I can only wish for at the moment coz I'm too lazy to get my butt off this chair every once in a while.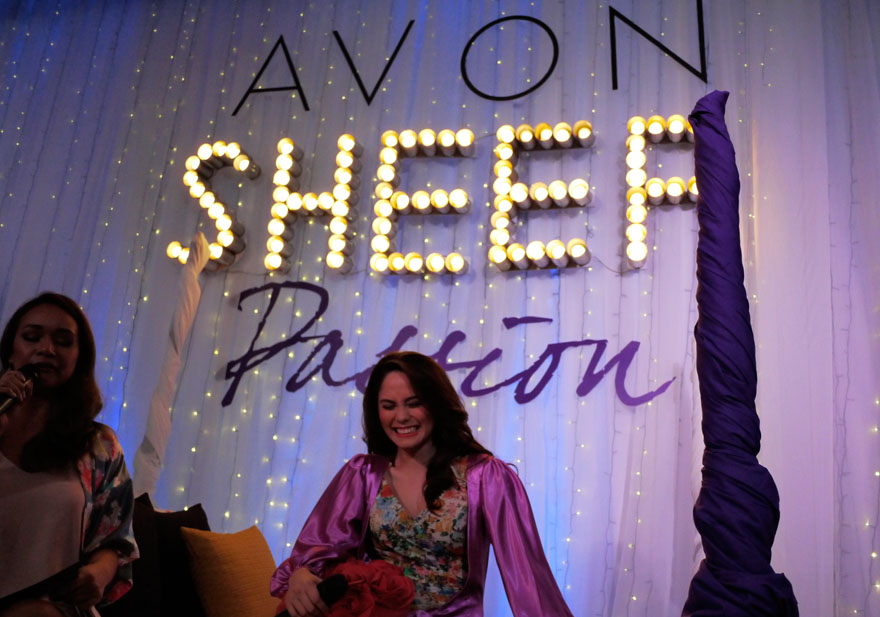 Jessy is also bubbly and she gamely posed and answered questions and played the slumber party themed games at the event. I like her. I'm now an insta-fan. 😀 I took videos of the event which I will hopefully be able to upload this week over at our YouTube channel.
On to the Avon Fragrance Mists.. I had a hard time choosing my favorite and I ranked the three last night like this – Top 1 Very Captivating, Top 2 Simply Tempting, Top 3 So Alluring. But today when I used Simply Tempting to try out if  it lasts long, I now like it more. I may change my mind yet again tomorrow when I try So Alluring next. Here's my brief description/first impressions of each scent: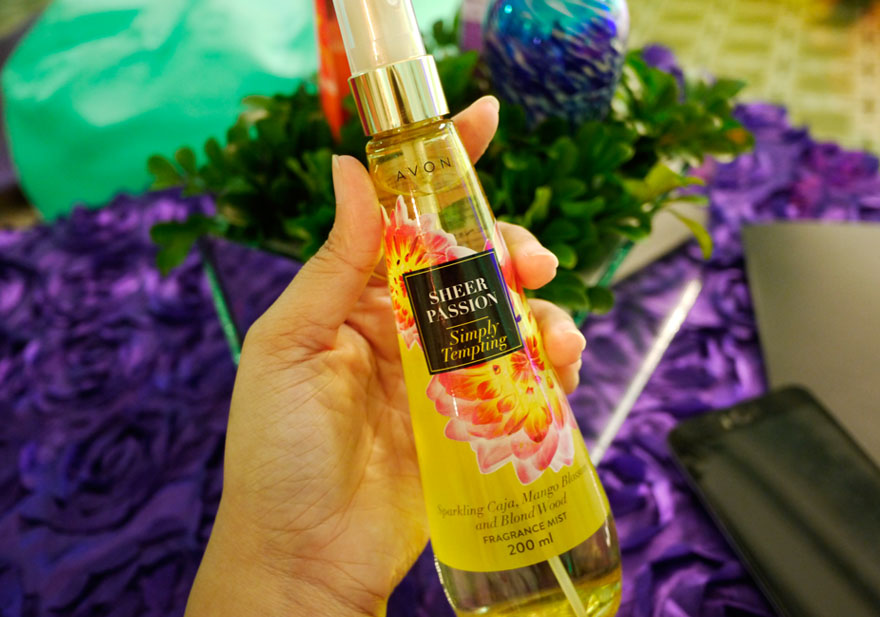 Avon Simply Tempting | Tease your senses with the mists of sparkling caja, mango blossom, and blond wood.  Sheer Passion Simply Tempting opens with a very citrusy explosive top note. The body is floral fresh, airy and light and it conveys the top freshness into the heart of the fragrance. The dry down accord brings softness. 
Out of the three, Simply Tempting feels the lightest scent to wear. It's initial scent can be described as fruity but the dry down becomes almost powdery soft.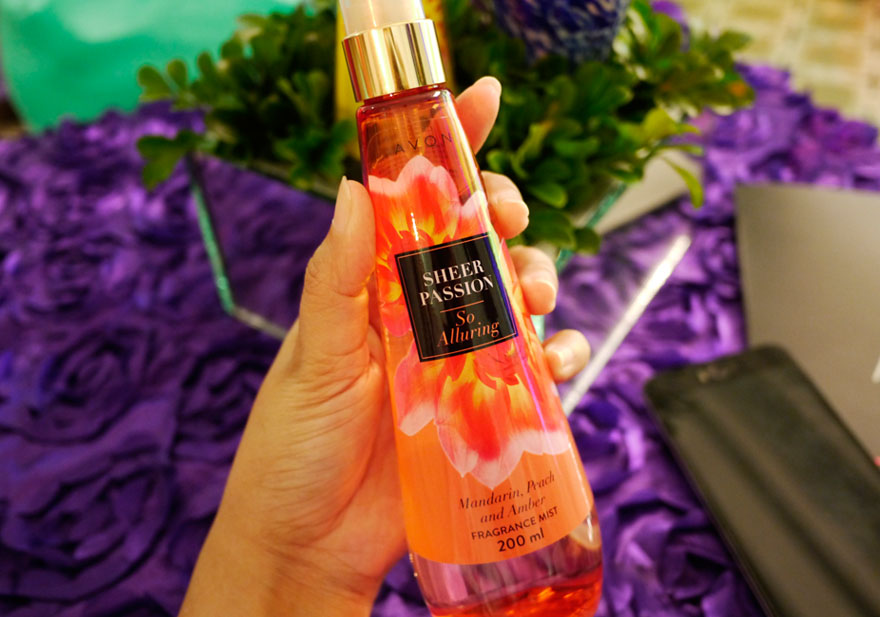 Avon So Alluring | Get fascinated with a magnificent floral and oriental charm. At the top of Sheer Passion So Alluring, a mix of fruits brings the contrast between the fresh sweetness of the Persian lime and the juicy freshness of the Mandarin, Velvety peach and feminine delicacy at the middle.
This is my least favorite out of the three last night, but today when I smelled it again, I feel like I may have been too quick to judge. It's initial floral scent feels a bit overpowering at first but out of the three, I find that the So Alluring dry down is the one I most like. It just smells so fresh after a while.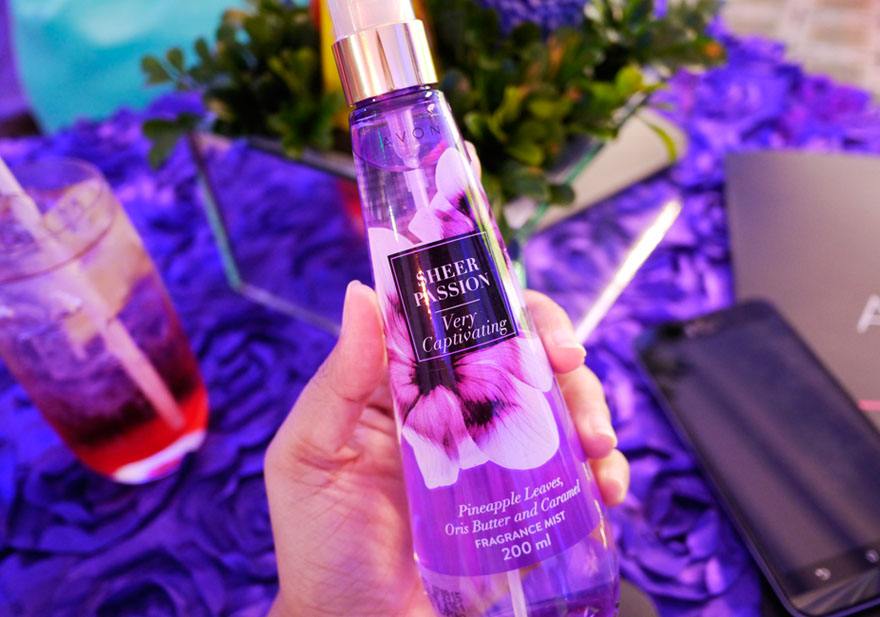 Avon Very Captivating | Tickle your sensuality once again. Sheer Passion Very Captivating is full of femininity. It is embraced by a modern interpretation of a floral aldehydic accord, blended with luxurious and refined flowers and delicate touch of velvety fruity rested on a sensual, radiant, and creamy oriental base.
I loved this last night darlings. Maybe it was the mood of the slumber party or the fact that it's colored purple which I love. Or maybe because it was simply nighttime which I feel is when Very Captivating is suited the most. The scent is strong yes but it is one that you can easily wear when you're feeling confident and sexy. It evokes a certain passion to it. I wasn't able to note the dry down though as it got overshadowed by the other two.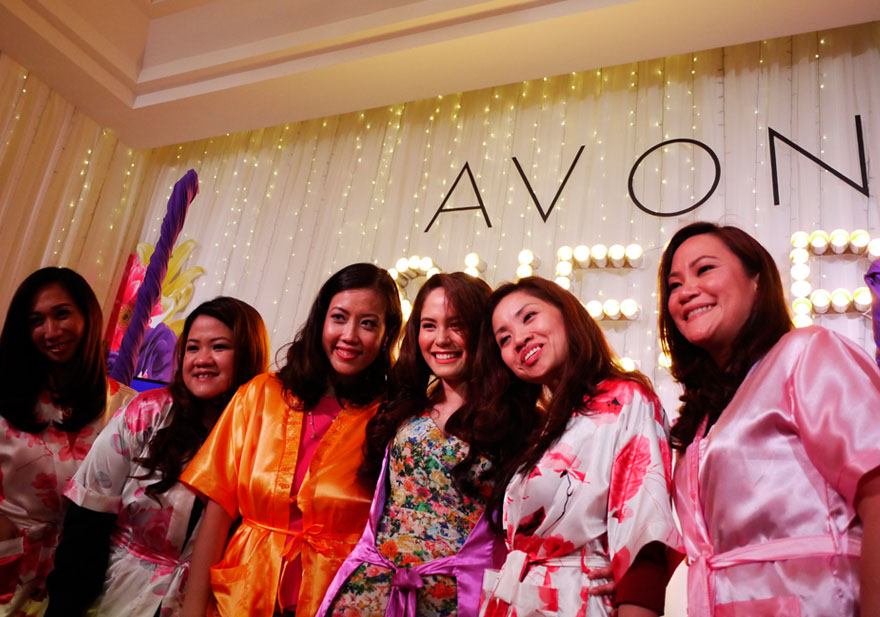 Overall, these new Avon Fragrance Mists are fun and young and provides a fresh choice to the bold Imari and the classic Sweet Honesty. Congratulations to Avon Phillippines and FleishmanHillard Manila for another wonderful event! And welcome home to Avon, Jessy! 🙂 *Trivia: In case you didn't know, Jessy modeled for Avon's Missy line when she was younger.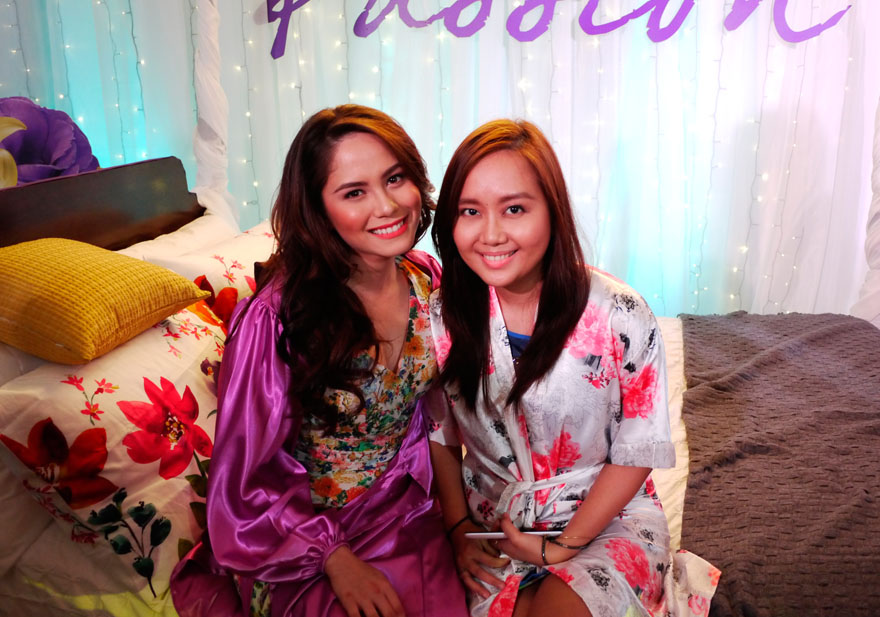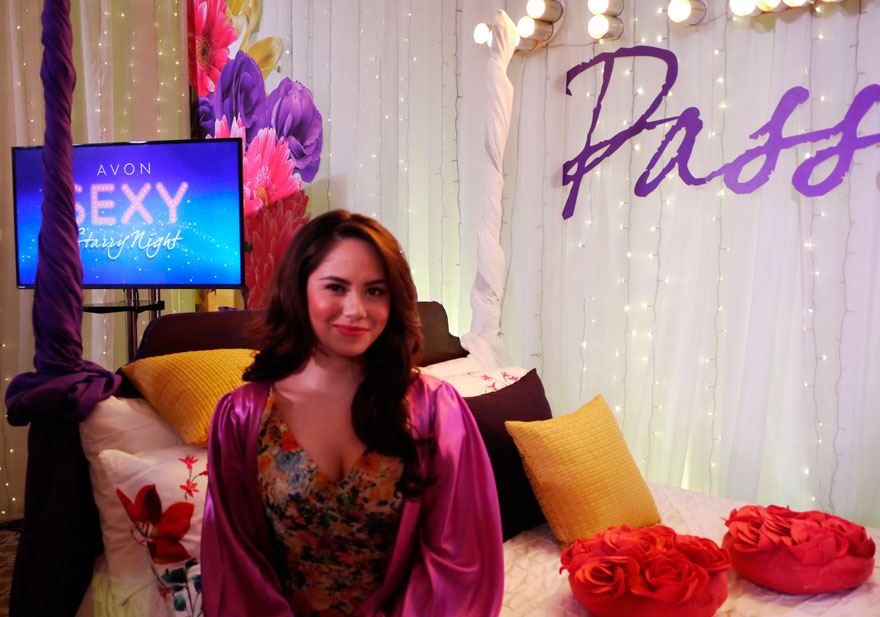 Do contact your Avon lady for more information or shop online from the Avon official site just for the Sheer Passion Fragrances – http://www.sheerpassion.ph They have free shipping now, a free gold pouch, plus some free samples (subject to availability). Let me know which one's your fave too! 🙂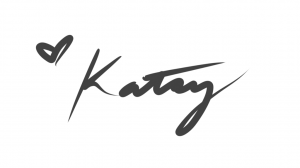 Avon Hosts Sexy Starry Night Slumber Party to Launch New Sheer Passion Fragrance
Introduces Jessy Mendiola as Celebrity Endorser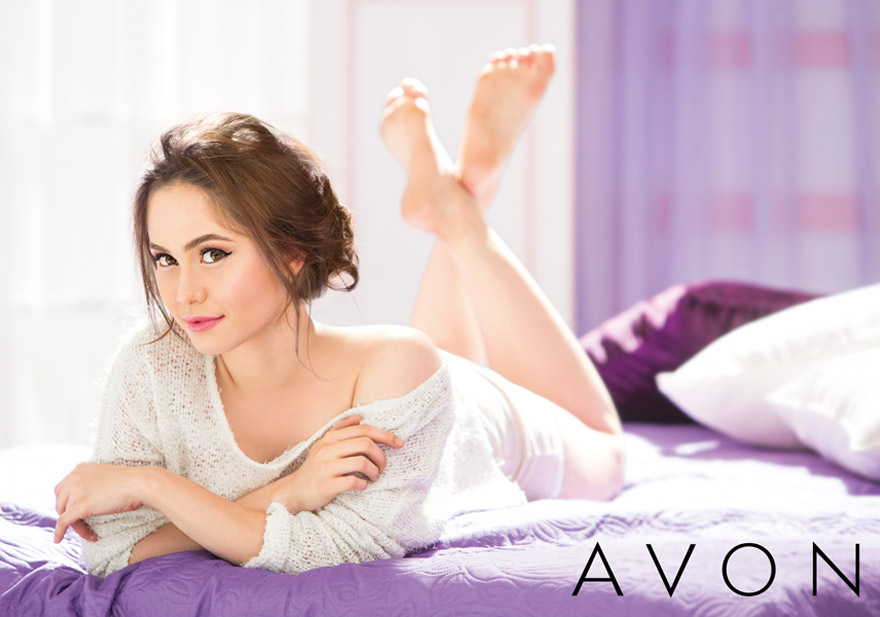 Lured by an invitation that included an eye-mask and a challenge to discover the lighter side of sexy, media friends recently had the chance to have fun in a true-blue slumber party.
To officially launch its limited edition fragrance collection, Sheer Passion, Avon, the country's number 1 fragrance company, hosted a slumber party that also set the stage for the introduction of its newest celebrity endorser, TV and movie personality Jessy Mendiola.
Dubbed as "Avon Sexy Starry Night," the delightful slumber party-inspired media event brought the guests to a lighter and playful side of sexy. Guests enjoyed the unique experience of donning night robes and plush slippers, while getting acquainted with the freshest variants of Sheer Passion. Together with Jessy Mendiola and host Cerah Hernandez, guests took part in various games that made them discover the best fragrance notes to match their personality and determine their playful sexy score when they find themselves in different situations.
Avon Philippines Marketing Director Jean Reyes shared how happy and proud she is to welcome Jessy Mendiola as the ambassador for Sheer Passion. She said, "Sheer Passion is all about the lighter side of sexy. This fragrance isn't about being the stereotypical seductress; it's for the woman whose confidence makes her stand out from the crowd. It's for the modern Filipina who is not fearful to let everyone know that she's arrived. Jessy's stunning sexiness and bubbly personality make her the perfect endorser for Sheer Passion. She is the picture perfect embodiment of Sheer Passion's 3 variants:  Alluring, Very Captivating and Simply Tempting."
Jessy Mendiola said, "I am grateful for being part of the amazing Avon family. I am honored by how the company for woman has entrusted me to be their endorser for the freshest fragrance line."
Sheer Passion embodies confidence, and a tempting beauty, as you leave a trail of captivating scents. This is a new collection of sexy fragrances for the woman who wants to stand out from the crowd.
Avon's Sheer Passion Collection is available nationwide starting Nov 15, 2015 through Avon Representatives. Don't know an Avon Representative? The Avon Brochure app for Mobile will connect you to one so you can enjoy personalized service from your friendly Avon Representative. Download the Avon Brochure app for mobile from Google Play or Apple App Store today to start browsing Avon's latest brochure. 
# # #
About Avon 
Avon is the company that for more than 125 years has stood for beauty, innovation, optimism and, above all, for women. Avon, with nearly $9 billion in annual revenue, has products that are sold through 6 million active independent Avon Sales Representatives worldwide. Avon products include color cosmetics, skincare, fragrance, and fashion and home, featuring such well-recognized brand names as Avon Color, ANEW, Avon Care, Skin-So-Soft, and Advance Techniques. Learn more about Avon and its products at www.avoncompany.com.