Pampers is one of the brands that we used for our little boy and one that we'd also recommend to new parents. With the tagline that they offer the "Best Pwet-ection" for babies, the brand proudly claims to not have the following ingredients in their diapers:
Formaldehyde
Natural Rubber Latex
Elemental Chlorine Bleaching
Disperse Dye
Lead, Arsenic, Mercury
Parabens
Alcohol/Ethanol
Pesticide Residue
PVC
Phenol
For newborns, they offer the Pampers Premium Care Taped New Born 70s (P633). Its surface is silky soft and ultra breathable for baby's skin and has "Magic Gel Channels" for fast absorbency.
Once slightly older, baby can transition to Pampers Baby Dry Taped Diapers Small 58sx4 packs (P1,783). The number of diapers may seem a lot but it'll be used up before you know it. Compared to the previous Pampers products, these are thinner yet faster absorbing with the same "Magic Gel Channels". The tapes are stretchy for a good fit on baby and there's also a wetness indicator to know when it's time to change.
For curious toddlers exploring the world around them, the Pampers Aircon Diapers Pants XL 52sx2 packs (P1,368) might be a better fit. The diapers are extremely breathable with a 3-way fit for leak prevention, but still maintaining high absorption.
There are other diaper bundles and diaper sizes available at the Pampers Official Store. Visit during the 9.9 Super Shopping Day to avail of discounts and promos. Here's a sneak peek! We're definitely aiming to be one of the first 100 customers to get free toys for our baby!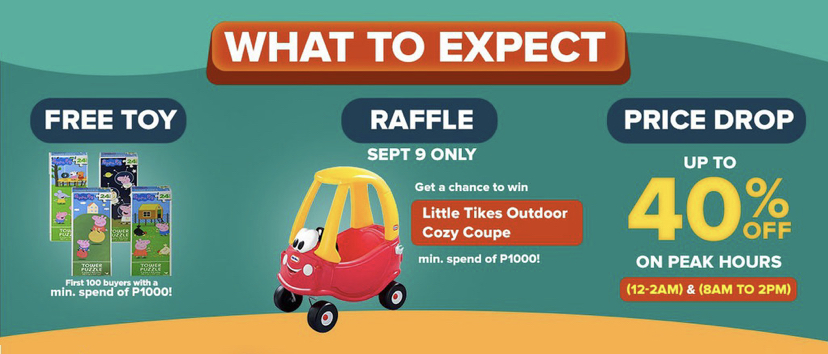 Download the Shopee app for free in case you haven't already from the App Store or Google Play.