Hi everyone! I know that most of our favorite beauty bloggers and magazines have posted about their 2014 top beauty picks but I thought i'd throw my two cents in as well. These are the products that I have loved the entire year and are actually near running out of. I will also include mini-reviews as I go through them although some I have featured in my other blogs so I'll just link to those posts too if you'd like a more detailed review.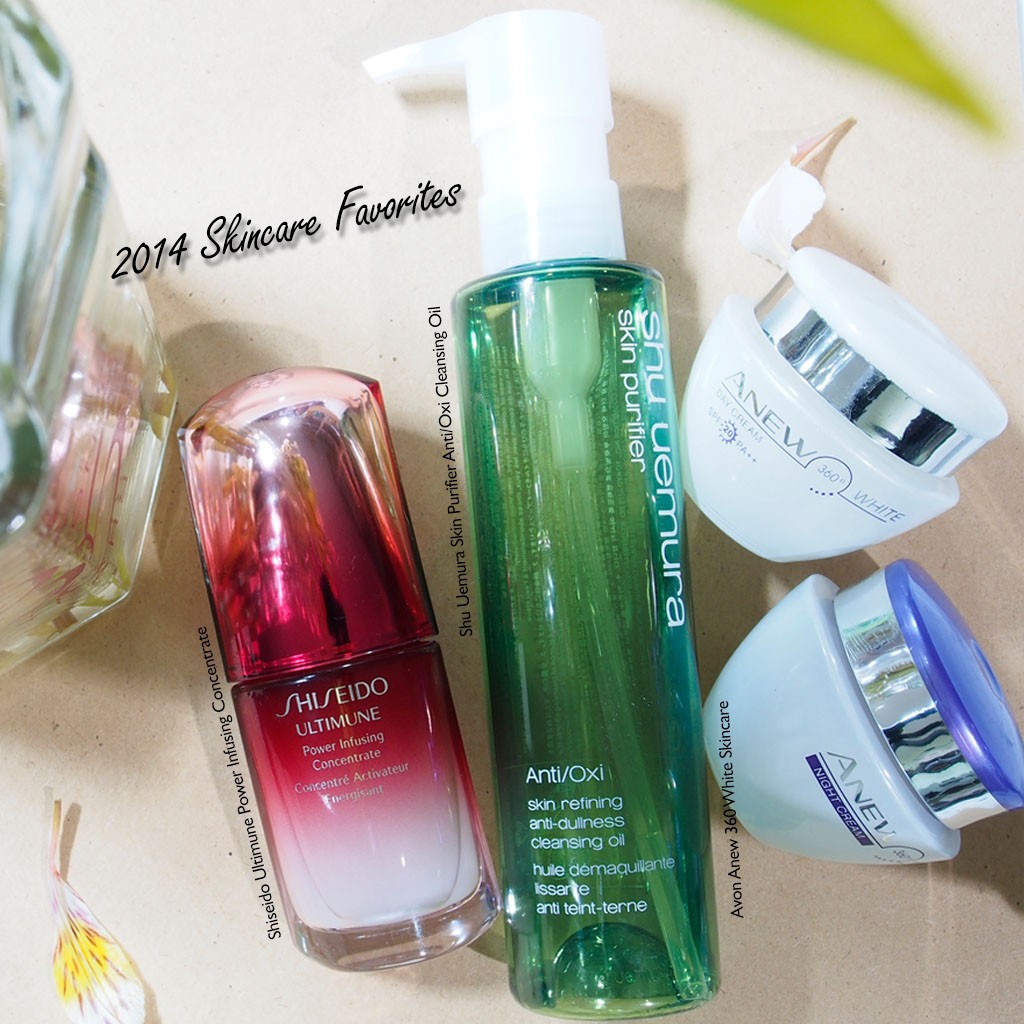 Skincare
I tried quite a few skincare lines in 2014 as I wanted to get closer to luminous, clear skin sans makeup (my ultimate beauty goal) and these are the products I kept coming back to. I'm still not 100% satisfied with my skincare routine though as I feel like my skin texture could be better overall plus I still haven't found my HG eye cream. My runner-up favorite for this would be the MAC Fast Response Eye Cream but I sadly run out of this early in 2014 and haven't repurchased since. Hopefully, this year would finally see me with a fixed skincare routine with enough diligence especially when it comes to facials and scrubs which I tend to forego when things get busy.
Avon Anew 360 White Skincare (except for serum)
I tried out 2 of Avon's Skincare lines last year – the Anew 360 White and the Anew Vitale and though both have merits, I went back to using the entire Anew 360 White line sans the serum after I finished with the Anew Vitale ones. While I did like the healthy looking skin in terms of plumpness and feel (or maybe I just gained more weight) that Anew Vitale brought, I loved the overall brightening effect that Anew 360 White gave. I think the line even whitened my face a tad bit as I went a couple of shades lighter in my MAC foundation match when I tested in June. Note that this happened before I got asked to try out the Snow Caps Glutathione Capsules or the Snow Skin Whitening Soap so it's not the effect of glutathione or other whitening products. I'm not really after whitening as I love my morena skintone but I do want smooth clear skin which sometimes call for a bit of lightening.
I also noticed that the line does not aggravate my normally dry skin so that's a huge plus. Also, since I haven't found the time to figure out disclaimer stuff for this blog, I would just say this inline – I received the Anew Vitale set as a sample from Avon Philippines but the Anew 360 White before and after sets I purchased on my own.
Shu Uemura Skin Purifier Anti/Oxi Cleansing Oil
I have loved the Shu Uemura Cleansing Oil since Ae of An Artechoke sang praises about it and generously gave me a sample to try out. From that moment when this amazing (expensive urgh!) oil first melted all my makeup away, I have since purchased the Shu Uemura Summer Fresh Set via Taste Central plus two bottles of the Anti/Oxi Cleansing Oil variant which is my absolute fave (out of the two variants I have tried but really, I feel like this just suits my skin you know?). The bottle you see here is my second bottle already which means I'm nearly out of it but this amazing oil lasts a long time so maybe I'll be able to go to Duty Free sometime before that happens. This is cheaper in Duty Free so hoard if you must. But if you get a chance to go to Japan, do stock up as these are even cheaper there. I would've bought the huuuuge bottle of this when I was there last April but I had just opened my first bottle then so no.
But seriously, this is amazing stuff! It really melts away all my makeup even my waterproof ones. But since this is also so expensive and aren't made for spot fixing of makeup, I've bought my first bottle of Bioderma in HK to try out. (I had a feeling that they would be cheaper there though I haven't really verified.)  Tsk, tsk. So experimental at the start of 2015, and here I was saying I would have a more fixed skincare routine this year.
Shiseido Ultimune Power Infusing Concentrate
The Shiseido Ultimune Power Infusing Concentrate is a late 2014 favorite and I just had to include it as I keep noticing subtle improvements in my skin since I added this to my routine. I first encountered this as a sample from the August 2014 BDJ Box and hoped to win a full sized bottle of it after I blogged about my #ShiseidoUltimune experience. Thanks to the BDJ Box team, I have continued using this serum with my Avon Anew 360 White routine and loving the effect. I will try to blog about this in detail though as I want to break down my reviews in terms of Packaging, Price, Promise, and Product. 🙂 Let's see how this new review system I'll be adopting will work out soon.

Bath and Body
I just have to include a couple of things for the Bath and Body Category as these two products have been staples in my stash the entire year, so much so that I have multiple backups of each.
The Cream Factory Bath Cream
Oh how I love The Cream Factory, let me count the ways! Or better yet since I feel like I've been writing this post for quite a while now, I'll link you to my previous posts about them. My skin has been noticeably less dry since I started religiously using these bath creams and coupled with the equally divine Scrub-in-a-Tubs, my home spa routine is quite set. I have every variant of the entire line available in the Philippines and I will rank them soon as I do have my favorite scents as well as not-so-favorites. There are also subtle differences in effect that I noticed throughout my use of the multiple variants that seem to reflect the benefits promised by the ingredients added to the goat's milk.
Bio-Oil
My eternally dry skin has another best friend aka skin savior in the form of Bio-Oil. I have gone through bottles of these, jumped in delight upon receiving a full-sized bottle in the Glamourbox Beauties and Babies Box, and hoarded an additional two huge bottles from my recent trip to Hong Kong even when I still had to get through my current stash.

Makeup
On to makeup finally! The following products are my most used throughout 2014 although some arrived a little later in the game but since the products are just lovely, they had to be included in this list.
Avon Ideal Oil Control Pressed Powder in OP101 Neutral
I got this first one from a bloggers' summer gift pack from Avon Philippines and have since purchased the rest of the shades in the line when they went on an amazing promo that gave me a free lipstick (or something as I can't really recall but I remember that I couldn't pass up on the promo) for each purchase. I still have to post about this in detail but the Avon Ideal Oil Control Pressed Powder quickly became my go-to everyday powder that I had to take a photo of it upside down coz the Avon logo in the front had faded away from being constantly transferred from my makeup bag to my vanity to my travel bag and to pretty much wherever I went. This is still the best for me for the hotter months as it really does control oil though I don't have oily skin to begin with. For the cooler BER months though, my routine slightly changed and this was only used for retouching when needed.
Laura Mercier Tinted Moisturizer Creme Compact SPF 20 UVB/UVA in Natural
The Laura Mercier Tinted Moisturizer Creme Compact is one product that I had to slow down using as I hit pan within two months since I first got it. I have never hit pan that quickly but I was really using this everyday because I just loved the finish. I have been a huge fan of the liquid Tinted Moisturizer which I got from the Flawless Face Kit but felt the finish a tad too light in terms of coverage. This however gets me enough coverage that I have gone to events and meetings and parties using just this and concealer as base. I still have a bit left in the pan and would have repurchased at the start of the year if I didn't get lured by the Laneige BB Cushion Compact which is closely running this one out of the competition for 2015 favorites.
Laura Mercier Loose Setting Powder in Translucent
I have only love for this Loose Setting Powder because I am acidic and foundations usually turn dark on me but when I use this especially with my MAC Foundations, they somehow retain their normal shades. I don't know how to explain it but this seriously does the job. Although I have to say that it only works if the shade is just my normal shade which means that it will turn one shade darker on me since I am acidic but if it is already a bit dark for me in the first place, the setting powder wouldn't work then. At first I thought that I don't really need this in my makeup life but it's my go-to setting powder for just about everything that I just had to repurchase it in full size when my small one run out. I just love this but I do have to be honest with the fact that this is also the only setting powder I have tried so far so let's see if I can find a dupe for this in 2015.
Shiseido Eyelash Curler
I don't know if it's just the weather lately but my lashes have been staying curled longer since I started religiously using the Shiseido Eyelash Curler. I almost gave up on curled lashes from constantly being frustrated with watching my nicely curled lashes slowly fall down after coating with mascara but this tool made me a believer again in the wonderful effect of curled lashes. They really do open up your eyes and make you look like you didn't stay up so late yet again.
This was one of my impulse buys from Japan even when I was set on getting the Shu Uemura one. I will try to compare the two soon as I have only opened this so far while the Shu one is still boxed up and I can't really compare it with the Shu Uemura S-Curler. You might want to read about my Mini-Collection of Lash Curlers even though I was never a solid believer of the tool, I still dream of perfectly curled lashes.
MAC Eye Shadow Single in Charcoal Brown Matte
I have a confession: this is the only MAC Eye Shadow I have. I wanted to get palettes of the famous MAC shadows but until now, I haven't gotten around to it. Probably because I realized I don't do eye makeup on a regular basis so my current stash should be more than enough for now.
I originally bought MAC Charcoal Brown for my eyebrows because this was the shade the MAC MUA recommended when I went on a brow binge. Paired with the Brow Set in Girl Boy, the two made for soap opera level eyebrows in the store but when I went home and tried to recreate the look, my brows were more caterpillars than celebrities. Please note though that this was around three years ago and I would like to think that my eyebrows have improved since then. Hopefully.
While I still use this for filling up my brows, I found a more perfect use for it by pairing with Zoeva's Pencil Brush and smoking up my lash lines when I'm in a hurry.
K-Palette Real Lasting Eyeliner 24h WP 1 Day Tattoo in Black SB101
Now I still haven't achieved the perfect winged liner but I do like to try. And tried I did with the K-Palette Real Lasting Eyeliner WP. I used to live with pencil liners only but this liner opened up my eyes to the wonderful world of winged liners. I found them easy to use with a decent amount of practice.
MAC Brow Set in Girl Boy
I don't know if I just didn't know how to use it then or the brush was just too big but Girl Boy and I simply did not get along for the longest time. Once though I asked Ae about this and she told me to use a separate spoolie for it instead of the built-in one and guess what? I'm already near the end of this tube. I never thought of doing that before and this would have rotted at the bottom of my drawers if not for her tip. I have since acquired a new Brow Set from the Pro Longwear Waterproof line but I've really been loving this shade lately especially to lighten up my brows. I will try to find its waterproof equivalent though once I finally finish up the tube.
NARS Guy Bourdin One Night Stand Cheek Palette
I had to pass up on this year's NARS cheek palette (even though I really, really wanted it) because I still had the One Night Stand Palette from the 2013 Holiday Collection. Orgasm, Laguna, Deep Throat… Wow. I  doubt that NARS can do anything wrong especially when it comes to their famous blushes and bronzers. These wouldn't reach cult status otherwise.
Bourjois Cream Blush in 02
I hoarded Bourjois Blushes when I went to Cambodia last July because I kept watching the UK Beauty Vloggers rave about these and I JUST HAD TO KNOW WHY. Some were even compared to Chanel quality especially the cream blushes so of course I had to get one (or two). Now I don't have a Chanel cream blush (yet!) so I can't really report in terms of comparison but I am seriously loving this blush especially in the colder months. Easy to apply, practically foolproof that you can't mess up except you know, when you're overjoyed and happily packing on the pink when you should just really stop but this rarely happens. 02 just gives a nice warm flush to my otherwise pale cheeks that I have it in my makeup bag always.
Chanel Les Beiges Healthy Glow Multi-Colour in No. 02 with Broad Spectrum SPF 15 Sunscreen
I love this. Classic. Chanel. Multi-Colour. Multi-tasking. Seriously.
Avon Perfect Eyebrow Pencil in Dark Brown
I don't have a photo of the Avon Perfect Eyebrow Pencil now because I have run out of it from constant use and I didn't realize that I happily gave away all my backups to family and friends from spreading word that great eyebrows can really make or break your look.
Tory Burch Lip Color in Scoundrel 05
Scoundrel is just love. This shade single-handedly started my whole red lipstick phase. How I wish I could be like Taylor Swift and rock the red every single day everywhere she went but alas, I have since moved on to a more neutral lip but every time I need a red, I immediately reach for this.
The texture of the Tory Burch Lip Color is great for me and doesn't dry out my lips. I have another one which I will review soon for lip[s]talking, this blog's version of my previous blog's Lip Filed.
Guerlain Rouge Automatique in Roselip 174
To wrap up my 2014 Beauty Favorites, here is my go-to neutral lip – Guerlain Rouge Automatique in Roselip. I know I haven't blogged about this before or maybe even mentioned it except on Instagram but this has been living inside my portable makeup kit ever since Mark got it for me as part of the Guerlain Travel Exclusive Set last June. The ease of application and luxe packaging is just wow that I have to review this in detail. Soon.
Till next post! 🙂
xo, K.