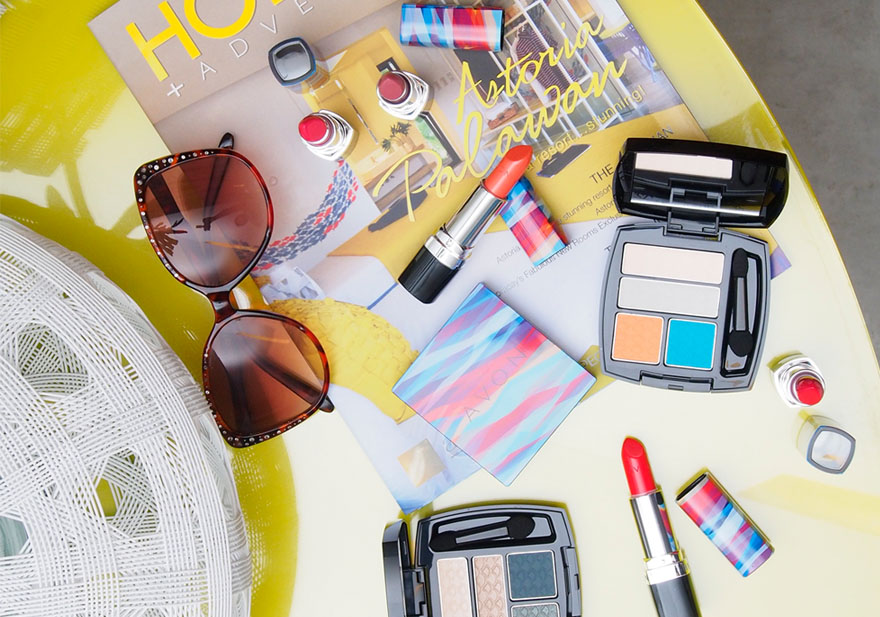 HOT HUES vs SUMMER SLEEPIN'
When placed in an actual tropical paradise aka Palawan, PHL, what does one do?
A. Proceed as planned, having brought magazines, ebooks, notebooks, art materials, and my trusty laptop to use while on "vacation";
B. Shoot as scheduled, having packed multiple makeup products to take photos of, use, review, and blog about; or
C. Sleep, eat, sleep, watch movie after movie while eating chips and chocolate, sleep, swim, eat, swim, eat, sleep, repeat.
I deluded myself into thinking that by planning and scheduling to do choices A and B, I will actually be able to accomplish them. But really? I was Team C all the way.
I did manage to do this mini-shoot because I couldn't bear to leave the rustic tropical-themed resort without "documentation". Also because I carried pouches of makeup through land and air and did not touch a single one throughout the trip save for sunscreen and lip balm. Seriously though, the room at Astoria with its bright hues, warm wood, and tasteful texture aptly complemented the latest Avon Makeup collection which I just had to bring with me because, T R O P I C A L  P A R A D I S E.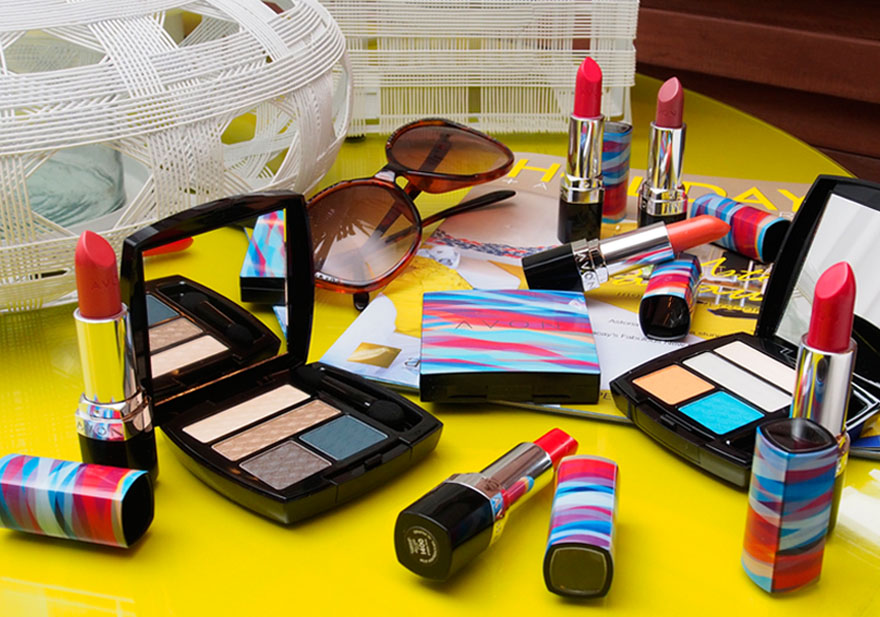 LIMITED EDITION (in Packaging but not in FUN)
Abstract waves of summer's hottest hues front this makeup collection's packaging, adding a dose of playfulness to the usual black. And while Avon Over Nature collection still tops my list of favorite Avon packaging to date, Tropical Paradise comes a close second.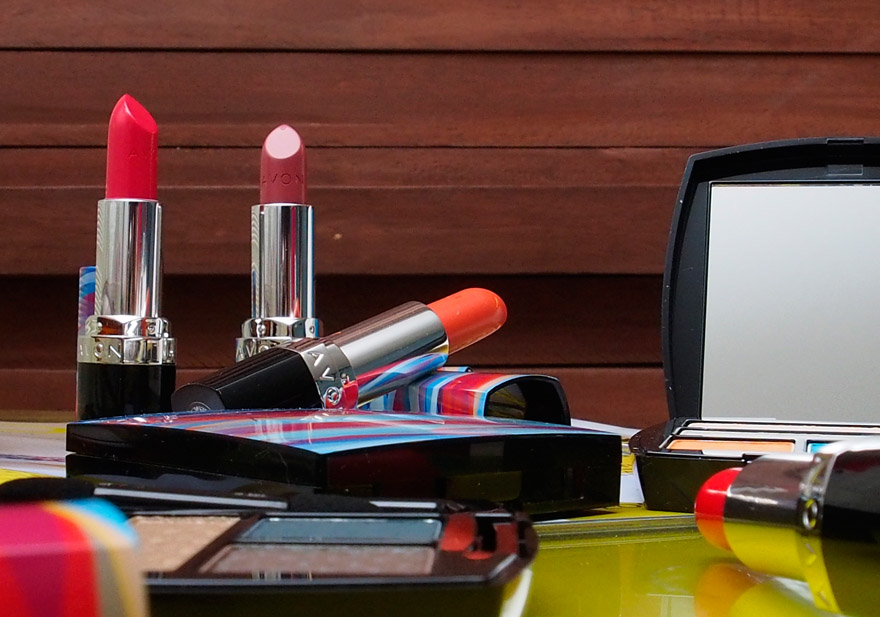 The shades in the collection range from the super trendy bold to the subtle but smoldering. The seashell pattern on the Tropical Paradise True Color Eyeshadow Quads a pretty alternate to the 1, 2, 3, 4 imprints found in the classic Avon quads. Since we are currently moving into the rainy season, I plotted out makeup looks matching the two quads with different lipsticks that can transition just as well, for day or night, for work or play. I hope to share them soon as I am still figuring out how to best take FOTD photos yet again.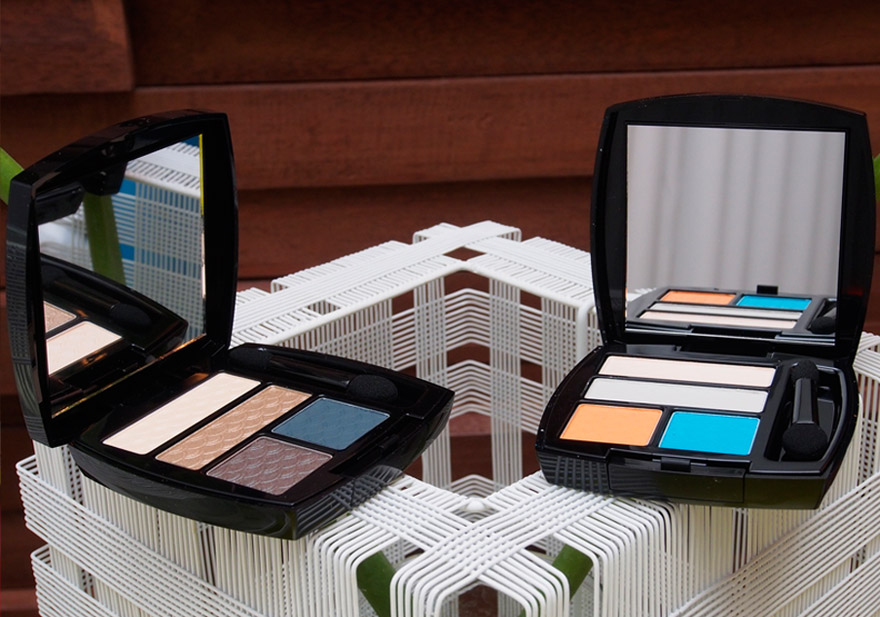 SHOT ON LOCATION: Astoria Palawan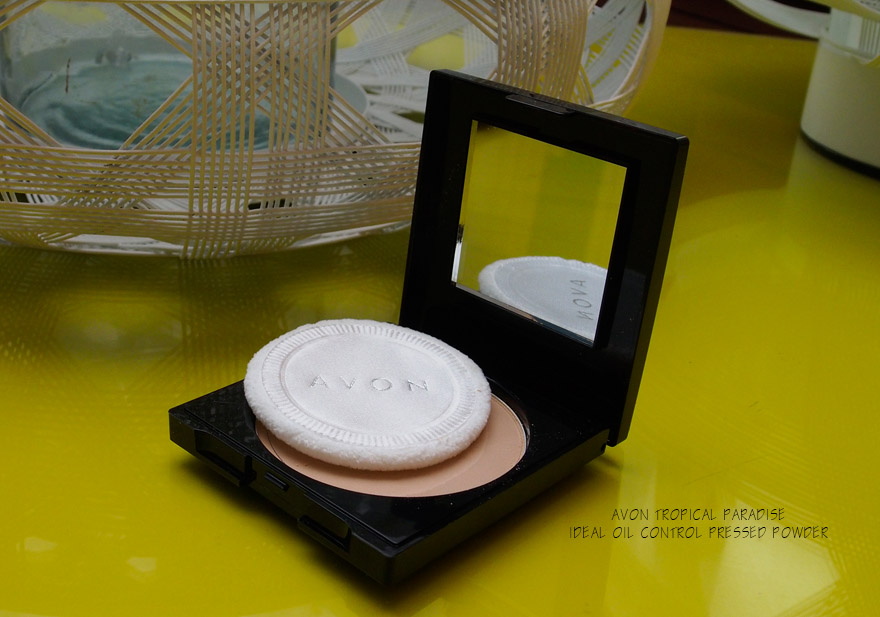 SWATCHES and FIRST IMPRESSIONS
Avon Tropical Paradise Ideal Oil Control Pressed Powder
I am a huge fan of the original Avon Ideal Oil Control Pressed Powder. The coverage is enough for me to use as a fast, sheer wash over my entire face as well as pack on under my eyes and render me refreshed for the day. That being said, since I still have the classic compact in use, I haven't touched this new one yet. I actually bought one as a backup before the launch event so now I have two extras of my shade. For reference, I use the shade Neutral as it's the closest match. I'll try to do a post comparing the different shades soon.
This powder also effectively mattifies the face, hence, the Oil Control Pressed Powder part. Retouch is needed when worn for long hours but not as often that I notice and find myself annoyed. I actually find it a tad too mattifying for my preference come the cooler months but that can be due to my skin type as I'm more on the dry side. I used this all throughout summer though as the heat causes extra sweat and oiliness.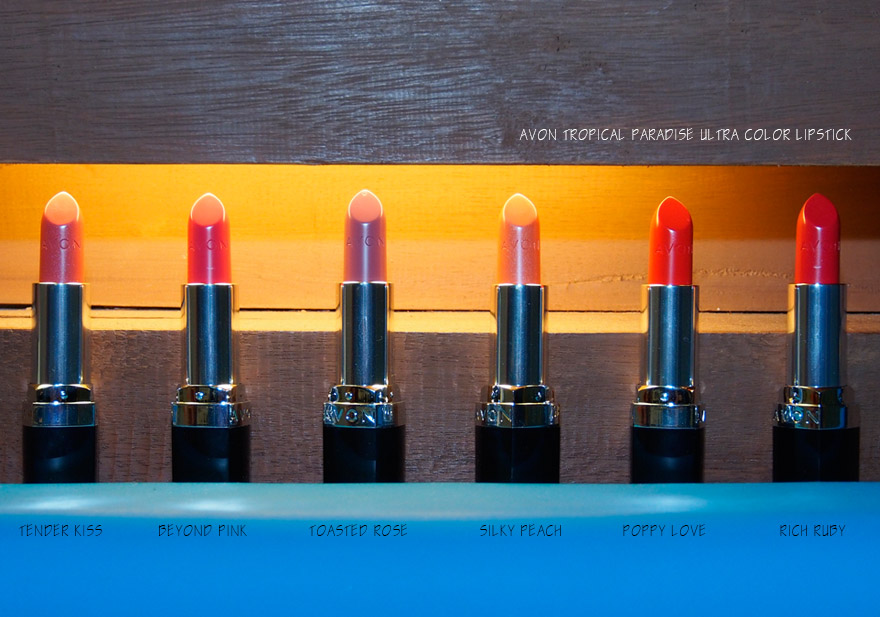 Avon Tropical Paradise Ultra Color Lipstick
Angel Locsin's favorite shade of the 6 available in the collection is Poppy Love as she claimed that it instantly brightens her look. Since I'm on a nude/neutral/my-lips-but-better phase (my red lips phase was last December), I'm more drawn to Silky Peach, Toasted Rose, and Tender Kiss. The other two, Rich Ruby and Beyond Pink, look amazing too but I find myself wearing lighter shades these days. So far I have tried Silky Peach and Tender Kiss on my lips and liked the overall effect. I like Tender Kiss more though as I found Silky Peach a bit frostier than I would like. The others I have swatched in this photo and all are just one swipe each. They're extremely pigmented and creamy as can be seen below. The colors are also very pretty and perfect for summer. I will review these lipsticks in detail in a later post.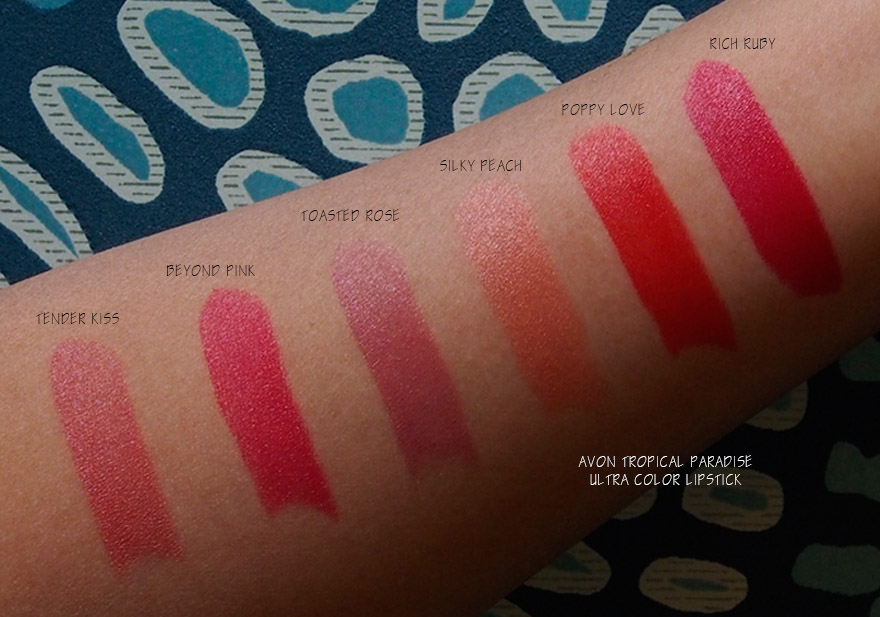 Avon Tropical Paradise True Color Eyeshadow Quad
I have to admit that I was scared of the Aquatic Life quad as much as I was drawn to the Precious Shells quad. Blue and orange on my lids? Eeeek. Too on trend for this classic loving gal. BUT. I do like to face my fears so I used the Aquatic Life quad yesterday and I am happy to report that I was able to create a look that was totally wearable for a day at the mall. I have to say, the quad really is, how do you say "nakakabata" in English? It made me more youthful looking? The word escapes me at the moment. I haven't even touched Precious Shells after these swatches so I'll have to get back to you on that. I am a hundred percent sure though that I'll be able to create extremely wearable looks for various occasions from that particular quad.
First thoughts after I swatched? Aquatic Life has 3 matte shades and 1 shimmer. While the matte shades looked extremely hard to blend, in actual application, they were not. As for Precious Shells which has 3 shimmer shades and 1 matte, I just love the sheer look of the quad that its soft, buttery texture was a pleasant bonus.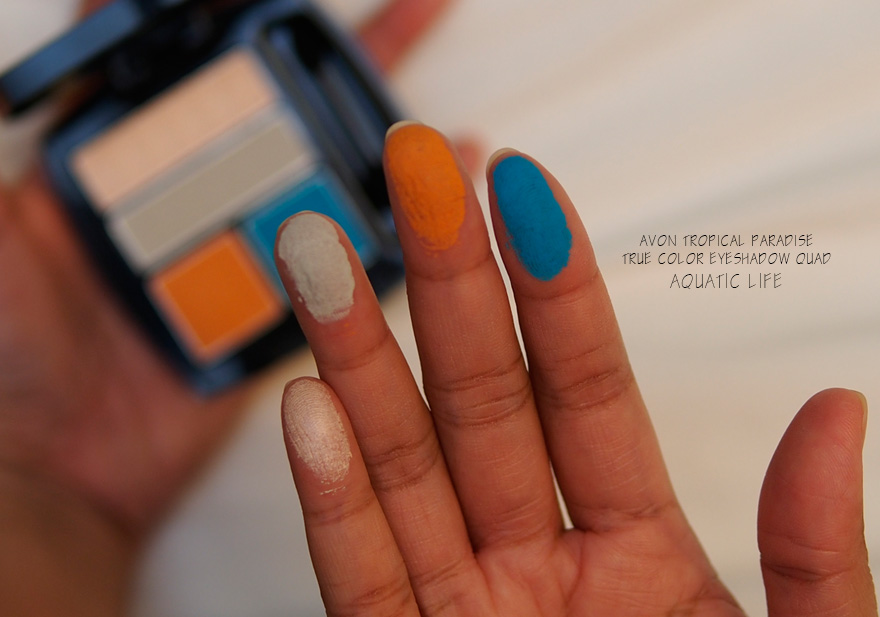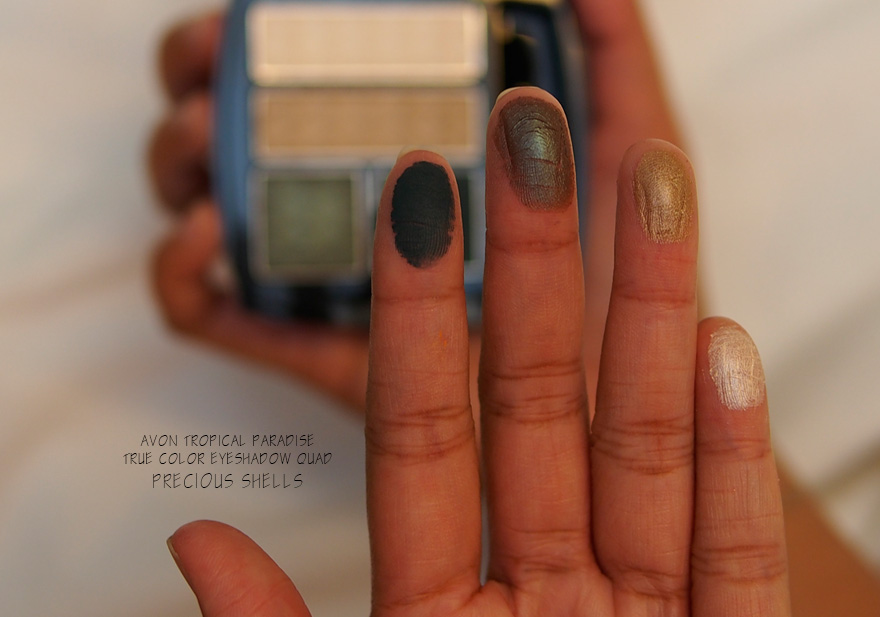 FINAL (INITIAL) THOUGHTS
The Avon Tropical Paradise Makeup Collection is a definite HIT for me as the colors are perfect for the season. The products I tried did perform well and the Avon price point gives value for money. The combinations of texture for the Quads were also cleverly done and I love how Avon made me pay attention to these important little details. I look forward to playing with this collection more especially with the Precious Shells quad, the repackaged Tropical Paradise Ideal Oil Control Pressed Powder, and of course, the different shades of the Tropical Paradise Ultra Color Lipstick.
What about you? Which product/s from this collection would you like to try?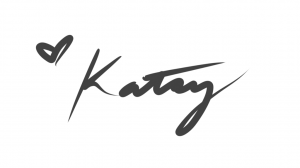 Avon Introduces Tropical Paradise – Season's Hottest Limited Edition Makeup Line
Discover aquatic shades of beauty this summer as Avon, the number one makeup brand in the Philippines, introduces its newest makeup collection, Tropical Paradise.
The limited edition collection, which heralds the return of award-winning actress Angel Locsin as Avon's makeup ambassador, features vibrant colors and hues inspired by the hottest runway trends. With the trio of lipstick, pressed powder, and eyeshadow, Avon Tropical Paradise collection is definitely the color must-have to make a bold statement with, this season.
Tropical Paradise Ultra Color Lipstick
Infused with natural ingredients, the stay true formula nourishes your lips and provides vibrant color that is formulated with True Color Technology and a Lip-nourishing formula with Shea Butter, Omega-3 Oil, and Vitamin E.
Available in 6 shades: Silky Peach, Tender Kiss, Poppy Love, Beyond Pink, Toasted Rose, and Rich Ruby.
Tropical Paradise Ideal Oil Control Pressed Powder
The silky smooth powder covers blemishes and skin imperfections, providing a flawless and shine-free finish with SPF 17.
Available in 4 shades: Oriental, Natural, Neutral, Medium. Only P299.00
Tropical Paradise True Color Eyeshadow Quad
Tropical Paradise True Color Eyeshadow Quad has rich, vibrant color with crease-proof wear that is formulated with True Color technology in expertly coordinated, limited edition shade. 
Available in two palettes: Aquatic Life and Precious Shells. Only P499.00
About Avon
Avon is the company that for more than 125 years has stood for beauty, innovation, optimism and, above all, for women. Avon, with nearly $9 billion in annual revenue, has products that are sold through 6 million active independent Avon Sales Representatives worldwide. Avon products include color cosmetics, skincare, fragrance, and fashion and home, featuring such well-recognized brand names as Avon Color, ANEW, Avon Care, Skin-So-Soft, and Advance Techniques. Learn more about Avon and its products at www.avoncompany.com.
*The makeup products featured in this post were a part of the PR giveaway at the launch event. I was not required to write a review but I thought it would be fun to do so I did. Opinions expressed are my own.