Today we have another brand for fellow parents to take note of: Uni-Love from Uni-Care Hygienic Products Inc. The main brand was founded in 2003, manufacturing and distributing hygienic products for babies and for adults. The sub-brand Uni-Love, focuses more on baby products and kindly sent us some to check out.
Diapers
The Uni-Love Airpro Baby Diaper 30s Newborn (P167) is a taped diaper, that has an "Airpro Backsheet" that is breathable to keep baby comfortable. Sizes go all the way up to XXL but if you can make the switch to diaper pants at Medium, which is the smallest size of the Uni-Love Slim Fit Baby Pants 30s Medium (P275). It still has the same Airpro Backsheet and up to 12 hours leakage protection in an easy-to-wear pants form.
Baby Wipes
You really get value for money with the amount of sheets the Uni-Love Unscented Baby Wipes 100s (P62) has. It's alcohol-free and paraben-free but with Aloe Vera and Vitamin E suitable for baby's skin. They have a Christmas Edition in Elf (P52) and Reindeer (P86).
Dental Hygiene
For ages 0-2 years old, the Uni-Love Infant to Toddler Toothbrush 0-2 Years Old in Blue (P96) is paired with the Uni-Love Probiotic Training Toothpaste 0-2 Years Old Flavour-Free (P91). For 3 years old and up, your baby can move to the Uni-Love Infant to Toddler Toothbrush 3+ Years Old in Pink (P96) and the Uni-Love Probiotic Training Toothpaste 3+ Years Old Strawberry Ice Cream Flavour (P91).
The toothbrush for both age groups has extra soft bristles, a tongue cleaner, and easy to grip for small hands. Both toothpastes have xylitol and made of food safe ingredients. The 0-2 years old toothpaste is notably flavour-free and fluoride-free while the 3+ years old toothpaste is strawberry ice cream flavoured and contains 800ppm fluoride. Uni-Love endorser Mommy Coleen Garcia is showing the variants here:
Cleansers
Baby bottles and accessories such as nipples and pacifiers, are usually washed with a separate cleaner since they needed to have no chemical residues that your baby might ingest. The Uni-Love Baby Bottle Cleanser 500ml (P91) is said to be hypoallergenic and 100% safe for babies while being gentle on hands.
Hand washing is a good habit to have nowaday. To encourage toddlers to wash their hands, give the Uni-Love Handsoap 300ml (P129) a try. It has a unique dispensing system that produces a distinctly shaped flower foam that is fun for the little ones.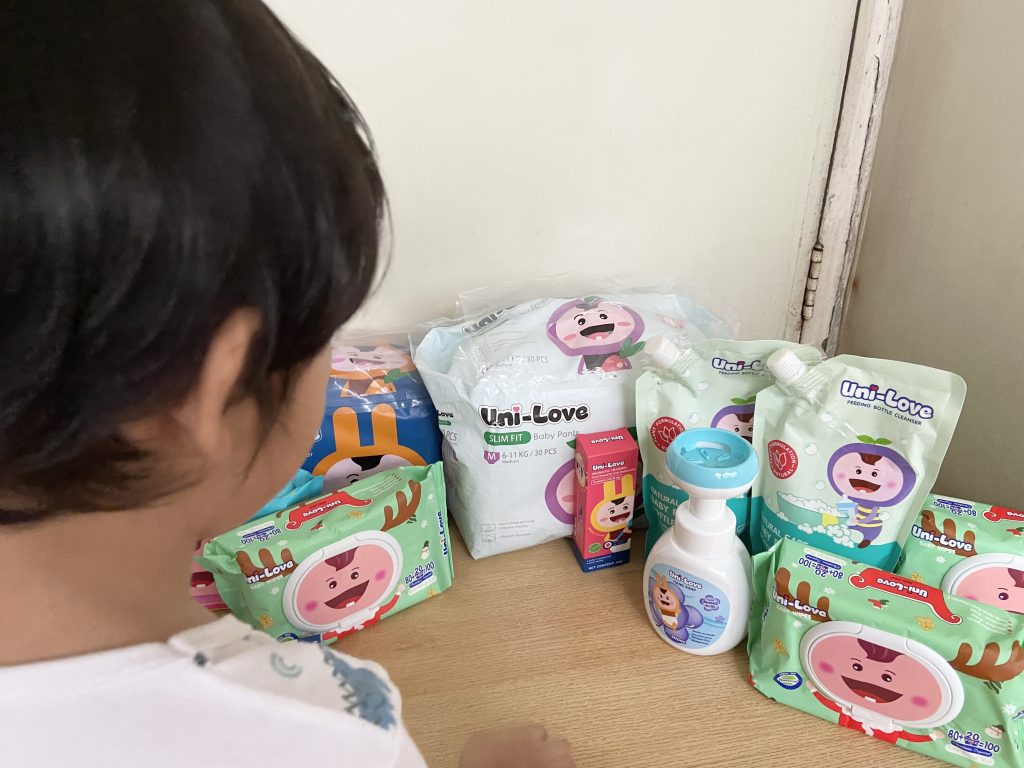 If any of these products here interest you, drop by the Uni-Care Hygienic Products Inc Official Store in Shopee or join the Shopee Mom's Club for more products and bundle deals. If you sign up now, you can get an exclusive deal from Uni-Care. Download the Shopee app for free in case you haven't already from the App Store or Google Play.