A couple of weeks back, my Instagram feed was suddenly filled with shots of these gorgeous lipsticks in orange and gold cases. The look seemed familiar and with further clicking I found out that it was the launch of Tory Burch Beauty new lip collection at Tory Burch Rustan's Makati. Since I was in the area (lucky me!), I passed by the boutique and got to sit through their Lip Layering Workshop with MUA Elaine.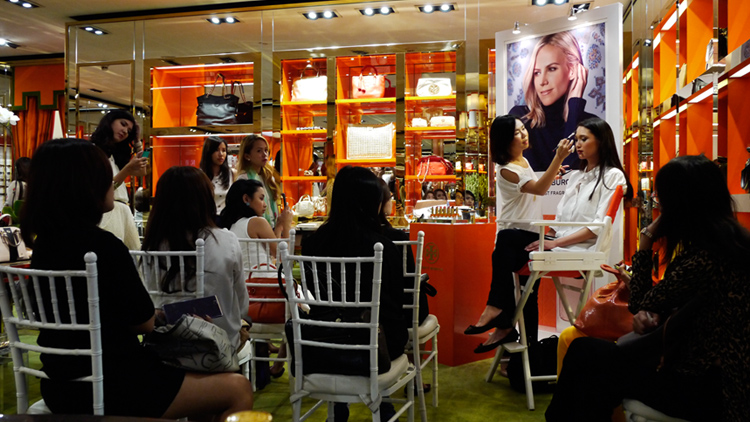 The main focus of the collection were the new shades of Tory Burch Lip Color. From Tory's signature Pas Du Tout "a sheer veil of color in Tory's universally flattering signature shade of pinky nude" (Tory Burch), 11 shades were added.
The packaging of the entire line has the luxurious feel of the orange and gold cases perfectly capturing the Tory Burch aesthetic.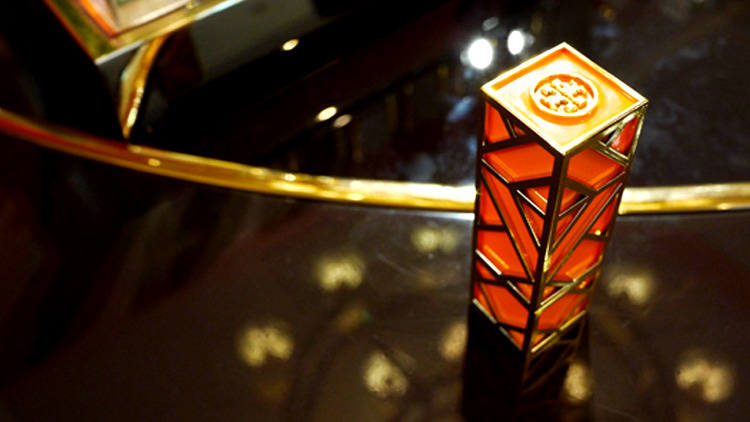 The color payoff of the Tory Burch Lip Color was sheer but buildable which makes it perfect for lip layering. Here are some of the tips from the workshop:
#1
Apply 1 layer to get the color straight from the lipstick. Sheer and great for daily use.
#2
Deepen the effect of the lip color with 2 layers. A more vibrant color payoff for those times when you just want more.
#3
Apply a different shade over the original shade you used. This mix and match technique is perfect for Tory Burch Lip Colors as they layer quite well. Even with just two shades, you can get two different looks already depending on which shade you applied first and which you applied over.
#4
To get a more opaque finish, apply a thin layer of concealer prior to any lip color. This will provide a good neutral base that will make the Lip Color pop out more.
Here are two of the Lip Colors in action:
First up was Scoundrel, a "classic scarlet red".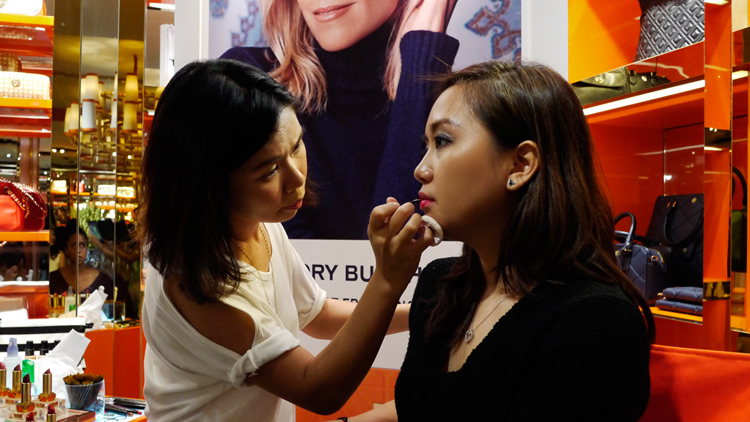 Elaine used a lip brush to get a more precise application.
This is how Scoundrel looked like on me. I think this was two layers. It's supposed to be a scarlet red but I find that it turns slightly pinkish red on me.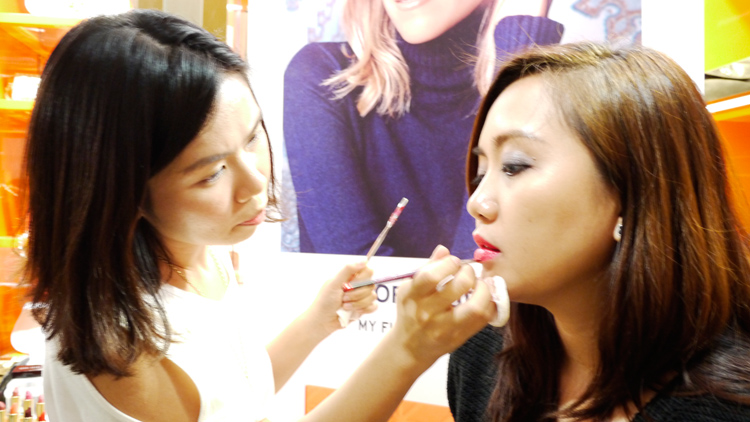 We then decided to do a lip layering with Pas Du Tout, a "sheer pinky nude".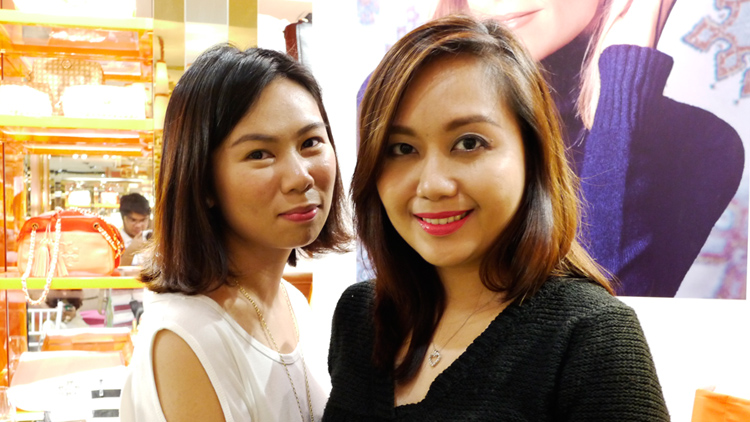 Which turned out like this. 🙂
I honestly loved the two colors layered together as the Pas Du Tout plus Scoundrel made for such a unique shade. It was a raspberry like color on me. If you get the two shades, you can create 4 different looks. I met ELC Beauty's Kimi at the event and she had on Pas Du Tout before an additional layer of Scoundrel and the effect was really different from the one I had on. I really wanted to get both so I can show you the different ways they can layer but I only got one. Can you guess which shade I got? 🙂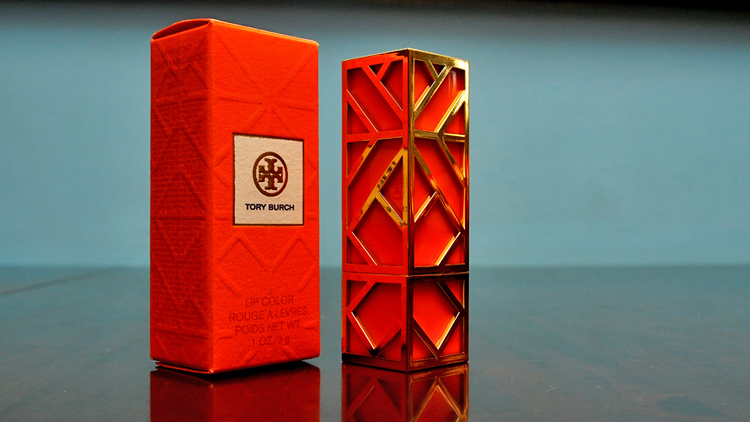 I'll make sure to blog about this *mystery* shade soon. But before I go, here are more photos of the other products in the Tory Burch Beauty collection.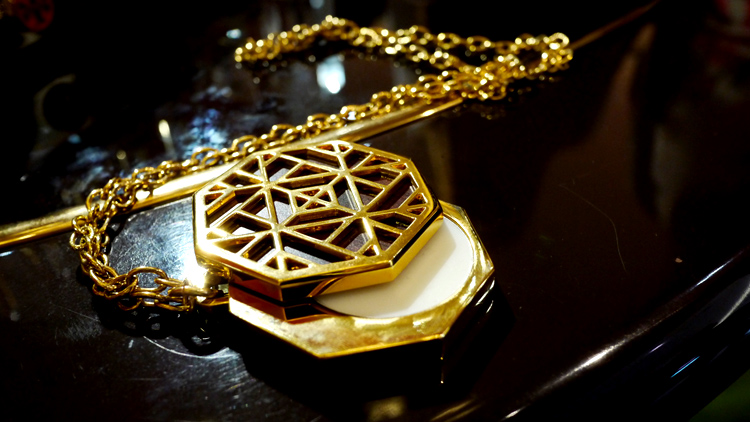 The Tory Burch Solid Perfume Pendant Necklace.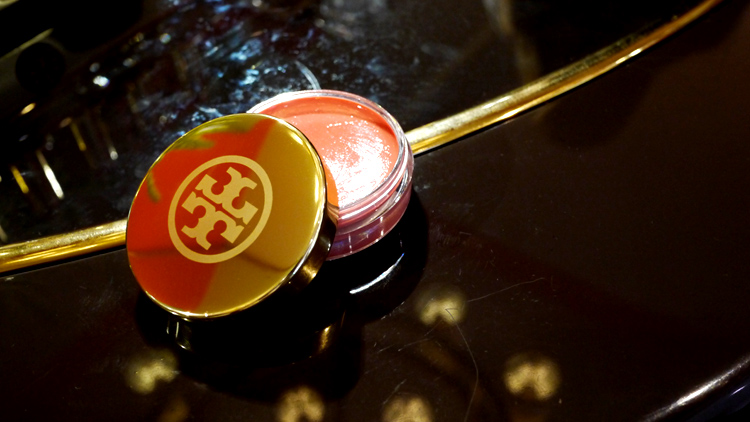 A pretty Lip & Cheek Tint.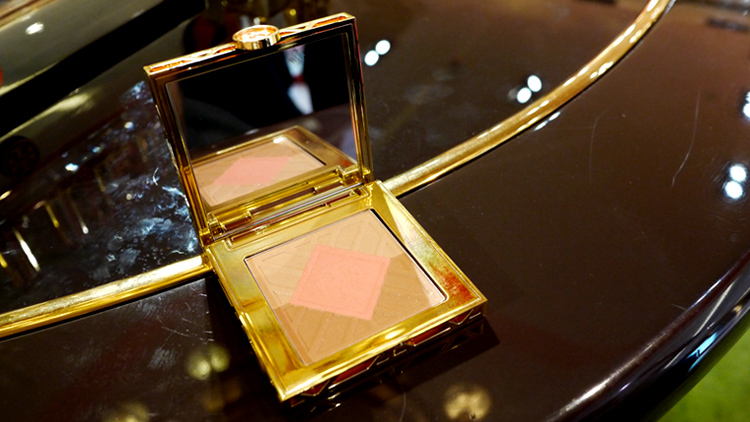 Tory Burch Bronzer & Blush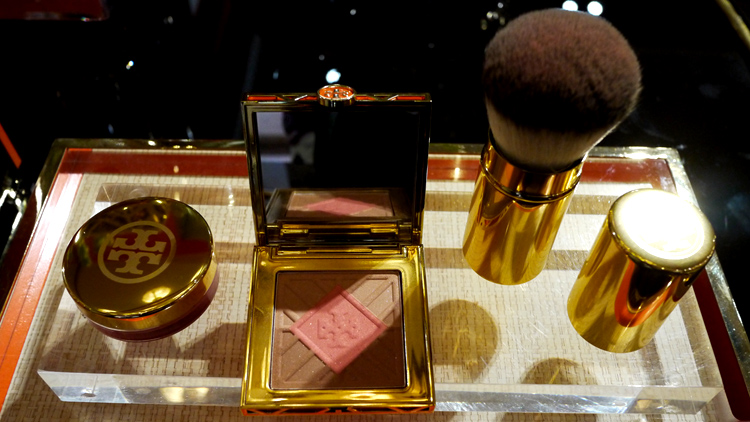 The collection with the retractable Face Brush.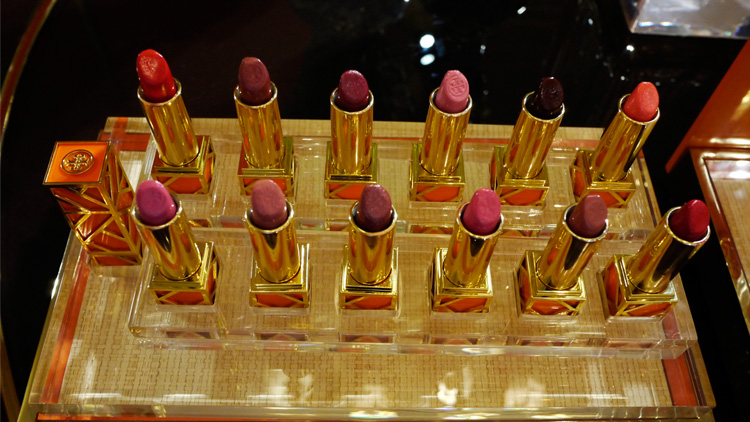 Tory Burch Lip Colors (top row, L-R = Smack Dab, Tomboy, Swizzle, Ramble on Rose, Knock on Wood, Pretty Baby, bottom row, L-R = Just Like Heaven, Pas Du Tout, Call Me, Saucy, Son of a Gun, Scoundrel)
The Tory Burch Lip Color is P1,650 each. You can get the whole collection at Tory Burch Rustan's Makati.