One of the key features of the Asus Zenbook 14 UX435EG is the newly improved and upgraded ScreenPad 2.0. This incredible innovation by Asus turns your traditional touchpad into a fully functioning 5.65″ touchscreen display that extends its usability to something similar to that of a smartphone. You can actually add apps and customize Task Groups which can help streamline your workflow. There are also built-in apps such as the Slide Xpert, Doc Xpert, and Sheet Xpert which work hand in hand with the pre-installed Microsoft Office Home & Student 2019 that came free with the Asus Zenbook 14.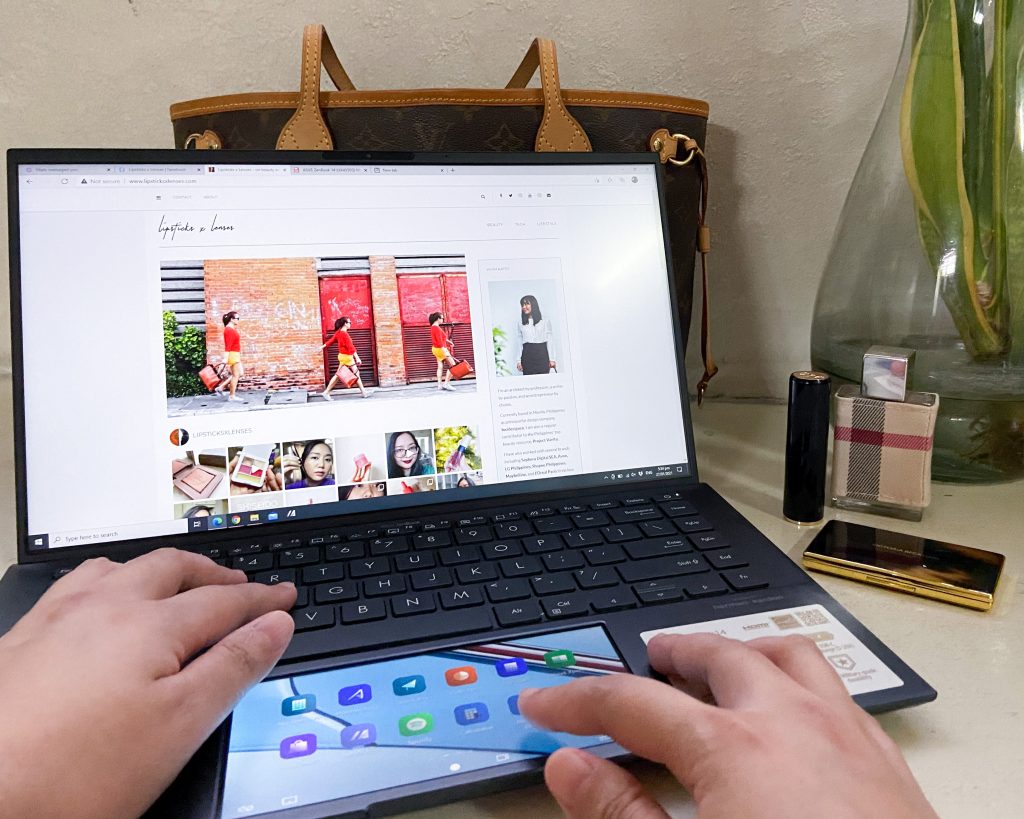 Something to look forward to is the ScreenXpert 2.0 which combines the Extender mode and ScreenPad mode so that they can be used at the same time. As an Architect by profession, I especially like this combination as the Extender mode gives me an additional display that I use for referencing CAD, cross checking prints, and playing Spotify, amongst many other pairings I've since come up with. I can also easily add apps and bookmarks to the ScreenPad 2.0 which gives me control and flexibility as it is also quite easy to organize or delete them. These bookmarks function as shortcuts for me so if I want to quickly open websites on say, materials I'm currently researching on, they're all there with just a touch on the ScreenPad.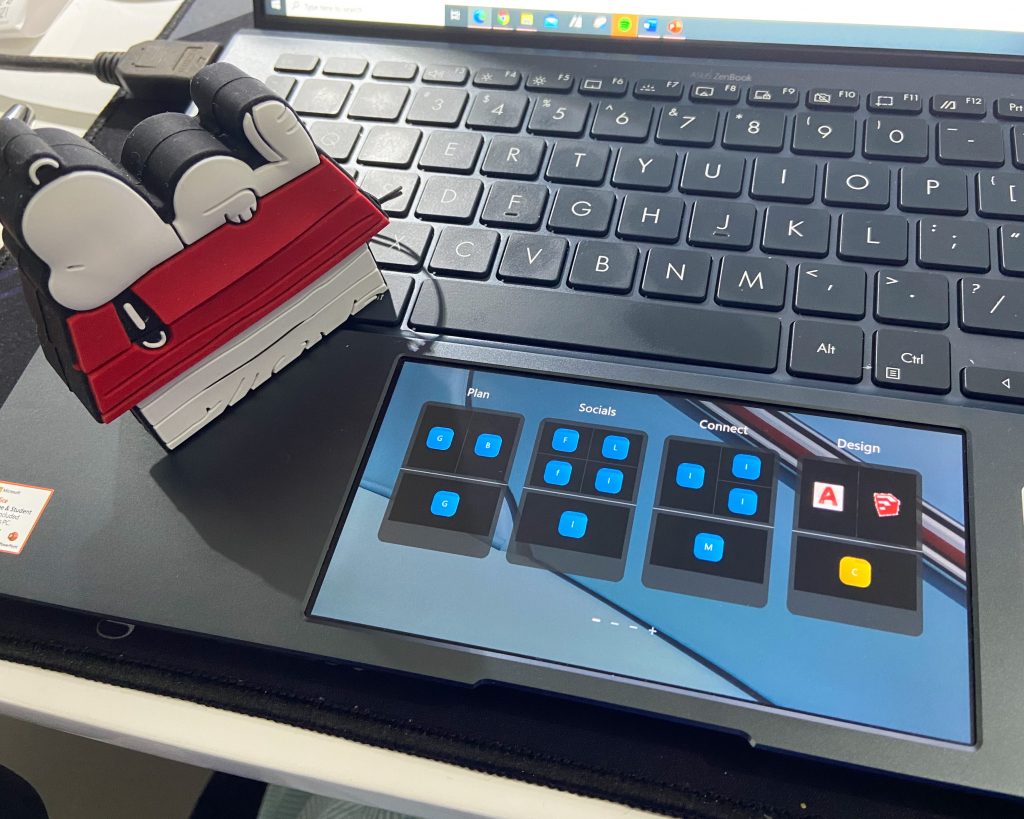 Since I'm also a Content Creator, I found the Task Groups section incredibly handy. I currently have four curated groups namely, "Plan", "Socials", "Connect", and "Design". These four correspond to different desktops and programs' setups that I use depending on what I'm doing for the day. Planning for me gives me access to Keep, Trello, and Calendar while Design opens up AutoCad, Sketchup, and Windows Explorer with just one touch. Socials enables me to stay on top of our company's website as well as this blog's social media pages. Connect is for when I need to talk to our staff ( and catch up with my friends) or if I just want to quickly check if we have new mail to attend to.
The above-mentioned features of the ScreenPad 2.0 are more than enough for me as they allow me to streamline my routine and accomplish true multi-tasking. The Phone Call feature (via Link to MyAsus), Handwriting, Number Key, and Calculator additions are just icing on the cake. I also like how easy it is to turn off the ScreenPad 2.0 just by pressing F6. But I prefer to keep it on and just turning on the Touch pad that's floating on top of the ScreenPad whenever I need to. The three-finger tap shortcut is also extremely useful for when I need to switch between the two functionalities.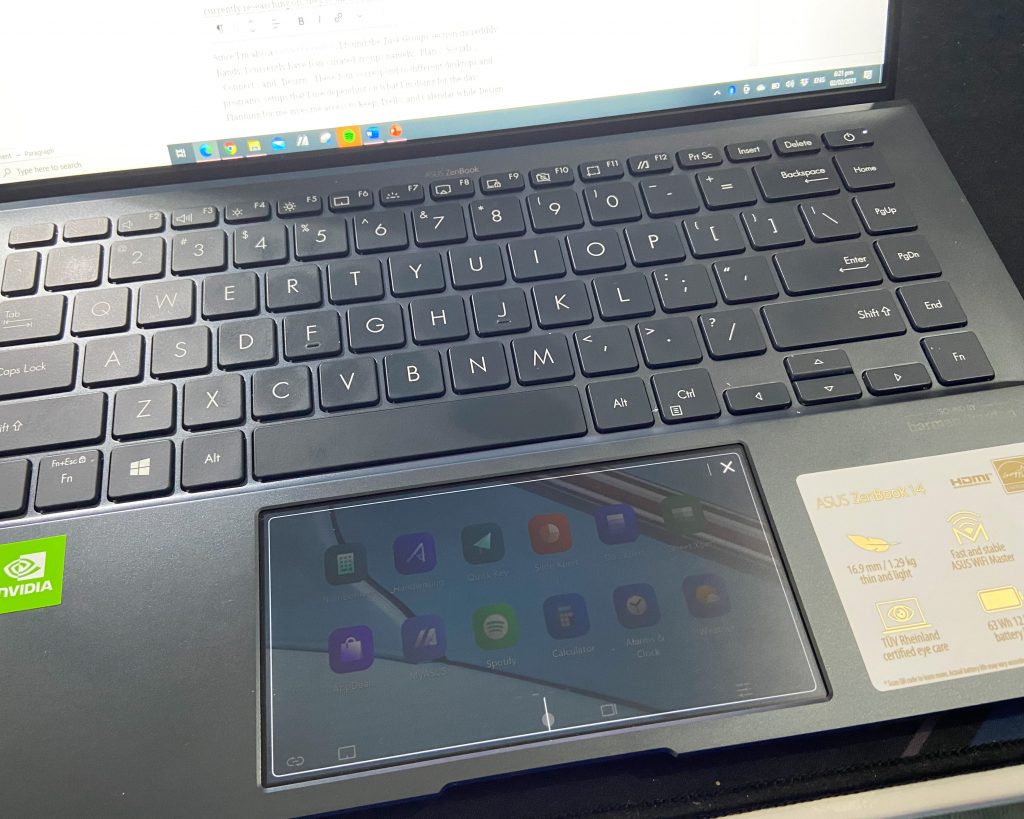 Overall, the ScreenPad 2.0 in the Asus Zenbook 14 is a nifty feature that can truly up your user experience depending on your use-case scenario. Personally, I'm finding its customization features and shortcut keys extremely handy. I just hope Asus comes out with an additional software update so all apps and programs will function well for the Mode Switch. I find that Microsoft Edge does not switch as seamlessly as Google Chrome does. Also with my other request, I hope there's a way to add more Task Groups for super multi-tasking powers. Or maybe there's a way already and I just haven't found it yet. The different features and functionality of the Asus ScreenPad 2.0 are true delights to discover.
For more information on the Asus Zenbook UX435EG as well as where to purchase, check out the links below:
http://bit.ly/BuiltForTheIncredibleLaunch
https://www.asus.com/ph/Laptops/For-Home/ZenBook/ZenBook-14-UX435/
https://shopee.prf.hn/l/7Bv5N93
And in case you missed my Unboxing and First Impressions, you can check out the video here: