Today I'm debuting a new series for the blog starting with the Asus Zenbook 14 UX435EG. This is #KatsysTakeOnTech – a Design Professional, Entrepreneur, and Lifestyle Blogger/Vlogger's POV on gadgets and technology.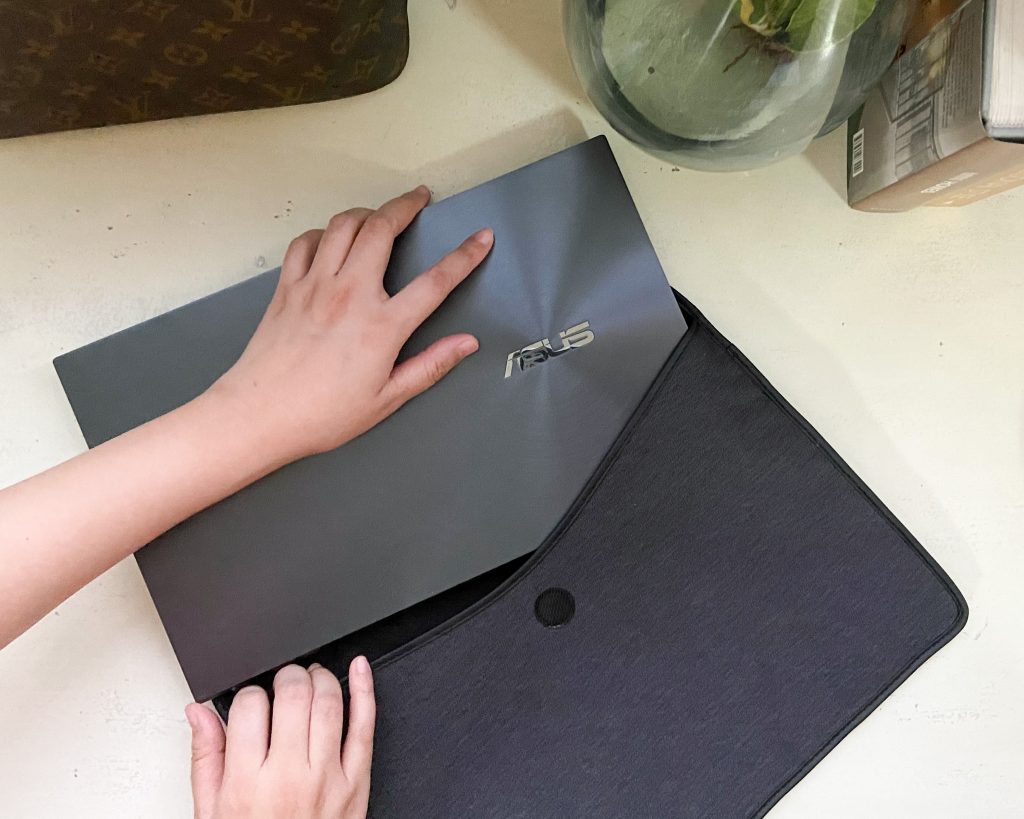 Power = Performance
I've been using the Asus Zenbook 14 UX435EG as my daily driver for a couple of weeks now and I'm ready to share my thoughts on the device. First up, PERFORMANCE. Design programs demand a lot from hardware and the combination within the Asus ZenBook 14 UX435EG delivers without question.
Let's start with the processor – the 11th Gen Intel Core i7 Tiger Lake 2.80GHz makes easy work of CAD programs. It fires up snappily letting me go ahead and check each new arrival into our cloud server swiftly. This allows me to revert to our staff any necessary changes in no time at all.
The 16GB of RAM is an update I never really knew I needed. When it comes to putting material side by side up on a bigger connected screen so that references are ready and within a short glance, both the RAM and the Nvidia MX450 Graphics Card lets me do that regardless of which program is necessary to check out the material. It feels freeing TBH, not having to wait a long time for things to open up and navigate into.
Battery + Easy Charge = Longevity
There's unbelievable convenience with the Easy Charge feature. I can juice up the Asus Zenbook 14 UX435EG with the same power bank I carry around for my phone. Talk about handy! With just 5-20V on your power bank, this feature can be an integral lifeline for working on the go. In my case, for site work and ocular visits. The Asus ZenBook 14 would let you know that it is charging at a slower pace than usual but that's fine if the objective is to keep the ZenBook up and about. Not that the 63 WH battery is any slouch at all. Full professional activity within the working hours off of the power cord is absolutely no problem. Charging with a standard USB-C has become widespread even inside the house. There's so much more USB-C devices now than the earlier microUSB standard and the Asus ZenBook 14 UX435EG can practically use any and all of them. It does come with its own 65W charger and that in itself is pretty compact and easily brought about that it effectively removes the fear of running out of batteries on the go – its performance mode all the way.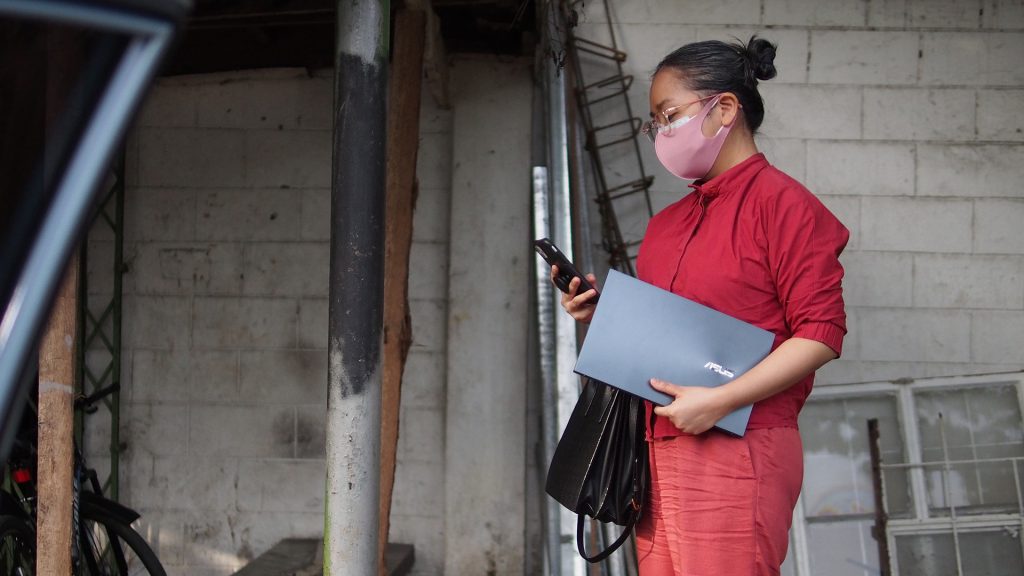 Premium Warranty = Peace of Mind
Every purchase of the Asus Zenbook 14 UX435EG comes with Asus Premium Care and its warranty coverage provides me with more confidence to take the ZenBook out with me to site meetings and sourcing trips. For at least the first year, it doesn't matter what cause it'd be – if the Asus ZenBook 14 UX435EG figures out in an accident or receives damage, Asus covers 80% of the repair fees for the parts and the ZenBook would be returned well and cured. Of course, I'm taking very good care of my Asus ZenBook 14 UX435EG and fingers crossed will probably not need the warranty but the peace of mind that the availability of it brings is very much welcome.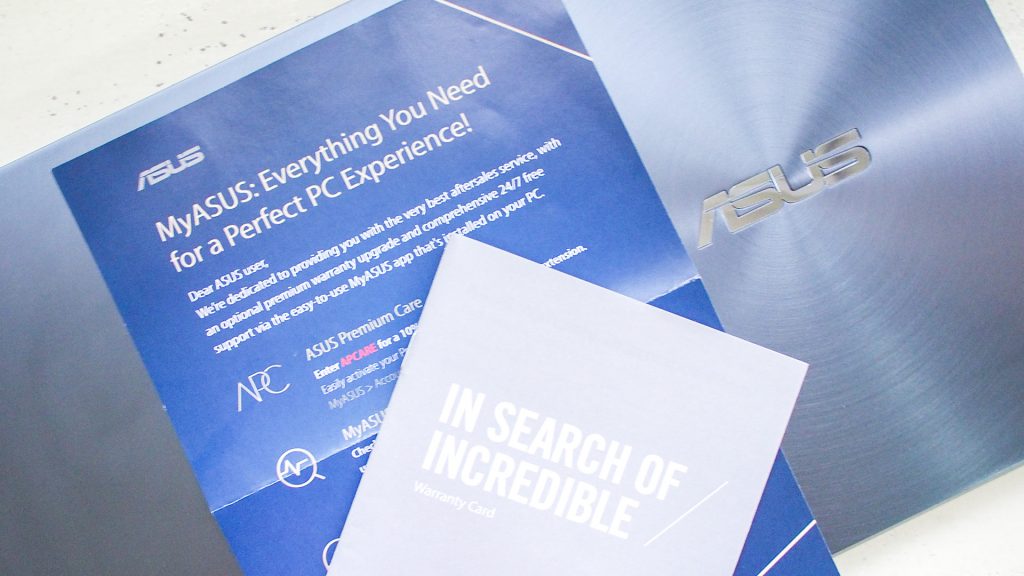 Pre-installed Microsoft Office = A Welcome Bonus
Beyond the warranty coverage, the Asus ZenBook 14 UX435EG also comes with Microsoft Office Home and Student 2019 pre-installed and activated. This addition gives so much flexibility to the Asus ZenBook 14 as you can literally work with it fresh out of its box. There's plenty to be said about working on contracts and paperwork on the ever reliable MS Office Suite and I actually got rid of my Office 365 subscription because of it. That's even more value the ZenBook 14 UX435 offers. I saved around 5,000 – 6,000 pesos because of it.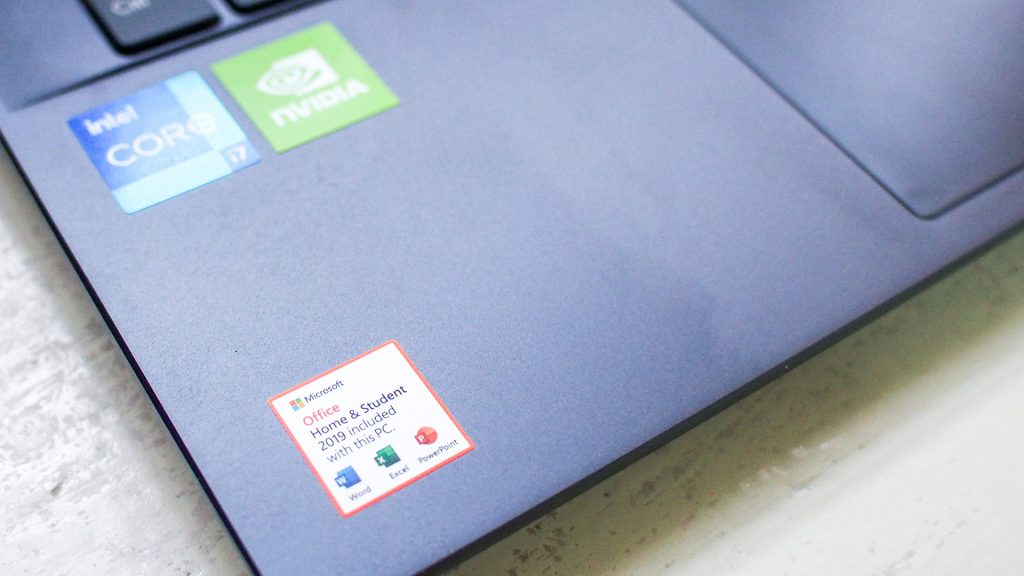 Nano-Bezel 14″ Display = Immersive and Distraction-Free
The nature of our profession requires a little bit more time apart from the 9 to 5 grind and working on a screen that cares for your eyes is something I really look out for. This 14″ screen also uses Asus' Nano-Bezel tech which means more screen and less distraction. It's completely immersive with its FHD aspect ratio – there are no bars that take away from watching my favorite dramas when it comes time to rest. The bright and vivid screen along with the Harman Kardon sound that comes from the chamber created by the Asus' trademark Ergo-lift Hinge make for a worthwhile session of binging straight out of my favorite streaming services.
ScreenPad 2.0 + Noise Cancelling AI Tech = WFH Ready!
All specifications considered, I must say, having the Asus ScreenPad 2.0 on this device is a most welcome surprise. It actually let's me respond that much faster with the shortcuts and Task Groups that the feature affords. It is quite big for a trackpad but that's because it is a screen first and foremost. You get used to the size pretty quickly anyway and with an additional screen, you kind of really want more space than less. I have groups set up for checking mail simultaneously from three different accounts at the press of a button, another for making checks on designs firing up the most common programs where the files would open up with, and even another group for research and tracking social activity. I just know that there's even more on the horizon when Asus updates the software on the ScreenPad 2.0 making it all the more functional.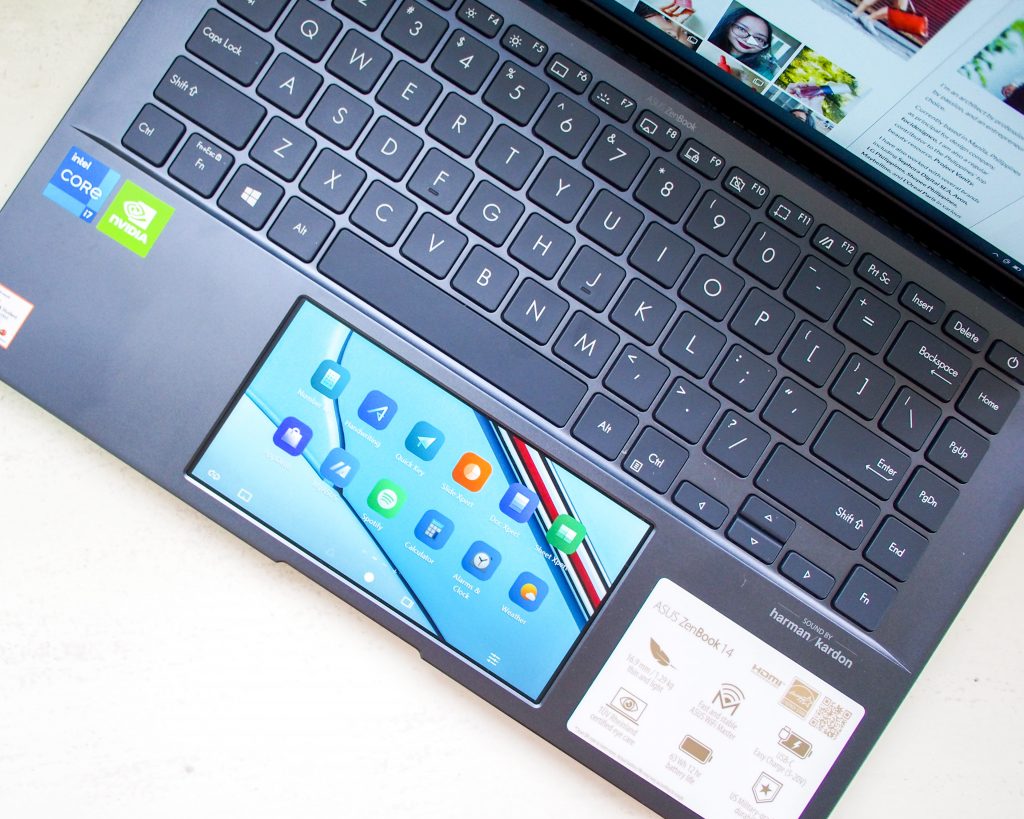 And how could I forget the built-in Asus Noise Cancelling feature? The Asus AI instantaneously makes normally noisy environments manageable and with different modes to boot! I'm so impressed with this as we tested this out with just one speaker and with multiple speakers as we tend to do for our online client meetings. Both work well with just a few clicks on the MyAsus app. Watch out for my review video coming next week for all the features!
Impressive Specs = Impressive Laptop
The Asus ZenBook 14 UX435EG in the i7 / 16GB / 1TB configuration is priced at P79,995 and it's quite a bargain for what you're getting. All the ports you could ever want with all the latest ones too (2x Thunderbolt 4 USB type C ports), and even the all important audio jack for today's modern working standard. I have mine in the professional-looking Pine Grey color which boosts productivity and mood – when I sit in front of it, I know I mean business.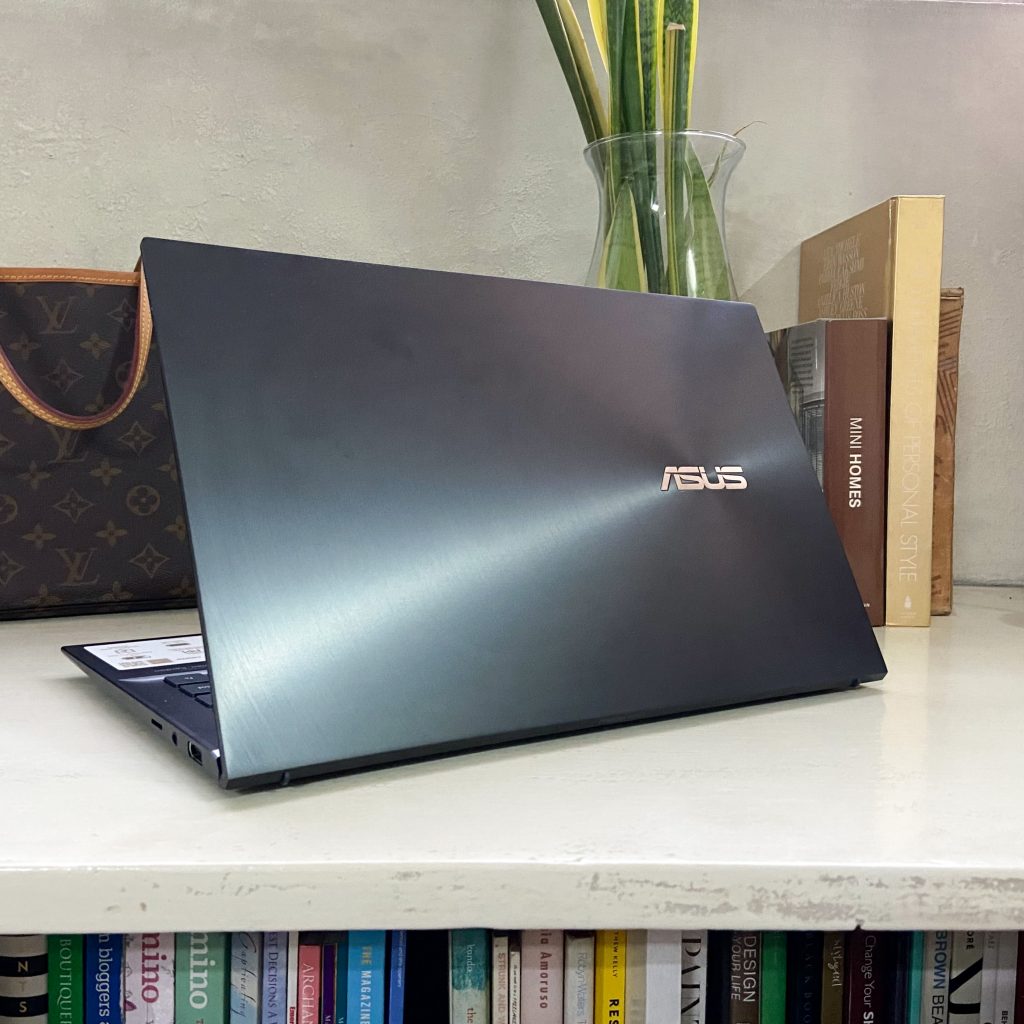 I've been a fan of the Asus Zenbook line for a decade now and this latest Asus Zenbook 14 UX435EG made sure that I stay one. The ZenBook line still does not disappoint. The line stays true to sleek, chic, and powerful. True performance from an ultraportable workhorse that will surely fit today's working lifestyle.
For more information on the Asus Zenbook UX435EG as well as where to purchase, check out the links below:
http://bit.ly/BuiltForTheIncredibleLaunch
https://www.asus.com/ph/Laptops/For-Home/ZenBook/ZenBook-14-UX435/