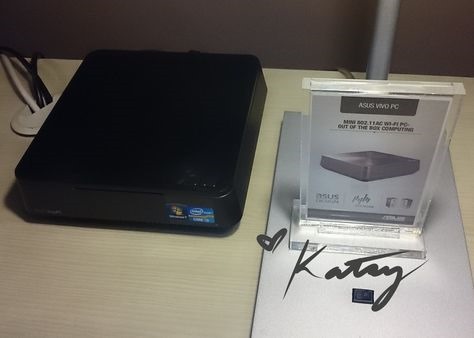 Welcome to another edition of Tech Thursdays! (Or Tuesdays but I actually promised myself to stop saying that… Well, next time. :D) For today I will tell you about the newly launched Asus Vivo PC. Say what again Katsy?? To make things simple to explain, I quote the nifty little product's tagline from the launch – "Great things come in small packages." And the Asus Vivo PC is indeed one small package with great capabilities.
Before I proceed, who here uses desktops still? I say still because personally, I haven't used desktops for a loooong time. My Asus Zenbook does everything for me but I have to admit that being an ultrabook, it's not exactly the ideal desktop replacement. But why look into a desktop you ask when I have subsisted perfectly well on a laptop? I think the better question would be why have I taken a long time before looking into a desktop? Well, let me count the ways..
1. Desktops are traditionally bulky. – Aside from the effervescent Mac Mini, I haven't exactly seen one that looks just as good. And small. Maybe I haven't been looking well enough though. Do let me know if there's one out there aside from the Mac Mini. And the Asus Vivo PC

2. Because of reason 1, desktops (the CPU unit at least) take a lot of space which is kinda inefficient in a teeny condo unit. I live in a condo and honestly, I wouldn't have considered a desktop unit before because my laptop easily stores inside its nifty little drawer that I designed especially for it.
3. Due to a mostly mobile lifestyle, having a desktop feels like having a ball and chain. I can't exactly take all the desktop peripherals to the nearest coffee shop now can I? Much less lug it with me in my next great adventure abroad.
Needless to say, you can probably call me a bit anti-desktop. So why the Asus Vivo PC now?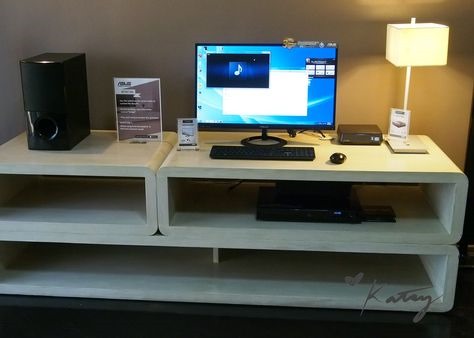 Well, let me also count the ways why I would actually love a desktop unit.
1. The same mobile lifestyle has made me feel slightly "unhinged". Haha. I tend to want to "ground" myself when working as I have a setup that I need to arrange first or else I won't be as efficient. I rather prefer bringing a tablet with me outside instead of my laptop. Now if only the iPad Mini can do CAD work.
2. The packing and unpacking for mobility. Wouldn't it be lovely to just have a more permanent setup at home that's in complete sync with the work I've done outside?
3. My Zenbook has limited space. SSD is still a bit expensive so I had to limit myself to 128GB. Which is utterly small for me. Photos alone for the blog take up a LOT of space. Not to mention my extensive music library which I have stopped updating already due to lack of space.
I repeat, so why the Asus Vivo PC now?
Personally, let me count the ways again. LOL.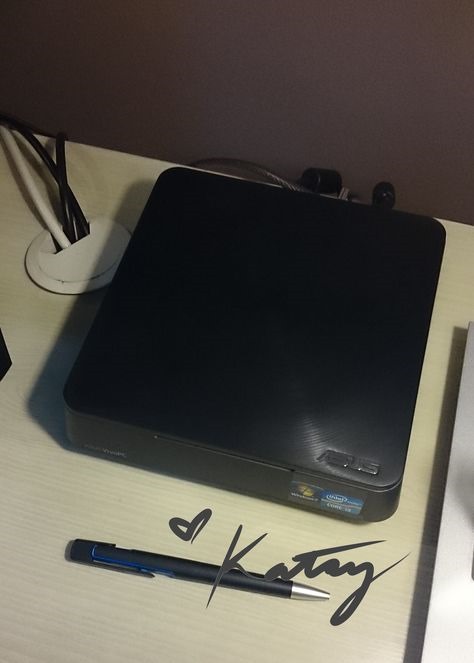 1. It's so small. As in really. Look at the photo. It's practically the same width as my ballpen. It's so pretty as well and I can just imagine designing a modern workstation with it. The Asus Vivo PC looks like it has to be there in my condo unit.
2. It's Windows. I have long been with Windows. We have a long-term relationship. They say "Work easy. Play hard." Yes, I believe.
3. 3 years warranty plus 32GB of Asus WebStorage free. Syncing would be a breeze. I rely heavily on Dropbox, Box, and One Drive now. It wouldn't hurt to add one more as backup now would it?
4. The Asus Vivo PC would look just gorgeous beside my Asus Zenbook. I'm all for great-looking products so really, I need not expound.
5. It has built-in SonicMaster speakers that sounds perfectly fine to me, a non-audiophile, not so techie person. I loved my Altec Lansing 2.1s before but they're just bulky.
Priced at P25,990 for the one with 500GB storage, I think the price point is competitive. There's a cheaper model at P16,990. Asus Philippines would be releasing in 2 weeks and for the introductory promo, it comes bundled with an external DVD. I'll try to take a photo of the brochure for Tech Tuesdays because I know you're probably going "WHAT ARE THE SPECS??" in front of your computer screen right about now. 😀
In the meantime, I'm quite curious, are you a desktop or a laptop user or both?
Cheers!
PS. If you really must know, the crucial differences between the P25,990 VivoPC VM60 and the P16,990 VivoPC VM40B are the following: (my conscience couldn't bear sending this post out without specs so here they are)
VivoPC VM60, starts at P25,990
OS: Windows 8.1 | CPU: Intel Core i3-3217U Processor | Chipset: Intel HM76 | Memory: 4GB 1600MHz DDR3 memory (up to 16GB) 2 x SO-DIMM | Storage: 3.5" SATA 6Gb/s 500GB 7200rpm | Audio: Integrated Speakers, 3 x Audio Jacks (Line in/Mic in/ Speaker out), 1 x S/PDIF Out | Graphics: Integrated – Intel HD Graphics 4000 | USB: 2 x USB3.0, 4 x USB 2.0 | Network: Gb LAN; 802.11 a/b/g/n/ac; Bluetooth V4.0 | Card Reader: 2-in-1: SD/MMC | Dimension: 190 x 190 x 56.2mm
VivoPC VM40B, starts at P16,990
OS: Windows 8.1 | CPU: Intel Celeron 1007U Processor | Chipset: Intel HM70 | Memory: 2GB 1600MHz DDR3 memory (up to 16GB) 2 x SO-DIMM | Storage: 3.5" SATA 6Gb/s 500GB 7200rpm | Audio: Integrated Speakers, 3 x Audio Jacks (Line in/Mic in/ Speaker out), 1 x S/PDIF Out | Graphics: Integrated – Intel HD Graphics | USB: 2 x USB3.0, 4 x USB 2.0 | Network: Gb LAN; 802.11 a/b/g/n/ac; Bluetooth V4.0 | Card Reader: 2-in-1: SD/MMC | Dimension: 190 x 190 x 56.2mm
Don't ask me what they all mean though, but you still can if you must and I'll refer you to Mark over at the Gadgetshelf