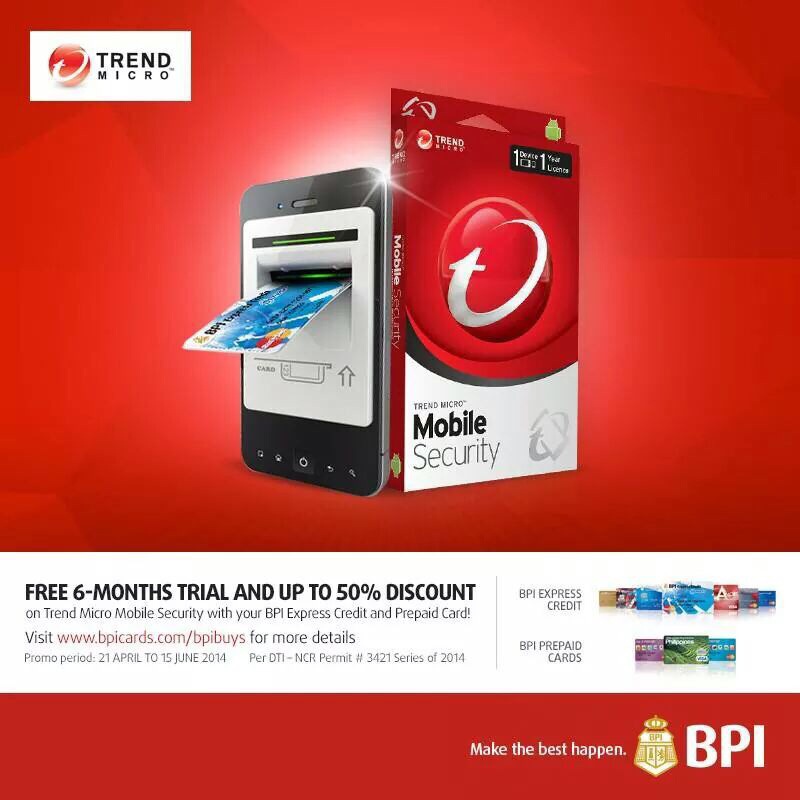 Hello there! Welcome to another edition of Tech Thursdays! I got an interesting email from Trend Micro the other day and I thought I'd share it with you guys. They currently have a partnership with BPI such that BPI Card Holders get a free 6 months trial of Trend Micro's Mobile Security. How awesome is that? Well, as much as I like free stuff (I am also a BPI Card Holder), I read their PR first and realized that maybe there is an actual need for such security. We practically live online and do plenty of transactions here. I for one do a lot of online shopping and booking for travel. My phone holds a ton of information and well, Facebook is always, always on.
Now I know that we have Apple's Find Your iPhone thing for remote wiping and the like as well as Sony's my Xperia and Android's Device Manager but an extra level of protection wouldn't hurt now would it? We do like to pile up the locks on our doors with a door knob, a deadbolt, and a chain bolt for that additional step up in security. However, I actually got a 1-year subscription to Trend Micro's Mobile Security from an Asus event earlier this year and honestly, I still haven't gotten around to using it. I realize now that I should put figuring this out and actually using it in high priority as prevention is always better than cure.
I'll update you guys once I set up Mobile Security on my devices so we can see how it works. Do let me know also if you have been able to try this out personally or if you are interested to know more about it. Maybe we can ask Trend Micro for more information about this especially for us not so techie people. In the meantime, full PR after the break.

Safe Mobile Shopping Exclusive to BPI Card Holders
BPI card holders can now shop safely with Trend Micro Mobile Security.
Over 53% of Filipinos make online purchases. This exposes them to threats like phishing, where cybercriminals can steal account names and PINs and then use them to take a user's money and identity. Bank of the Philippine Island, together with Trend Micro, has taken steps to protect users against such threats.
For a limited time only, BPI card holders can enjoy 6 months of safe mobile shopping using Trend Micro Mobile Security for Android—a simple app that protects mobile phones and tablets against mobile and online threats. It also safeguards shopping transactions done via mobile phone.
Mobile Security has all bases covered:
• It guards against malicious apps that steal personal information and makes users vulnerable to identity theft.
• It protects against malware and banking fraud by blocking dangerous websites.
• It helps users find, lock, and wipe out the data on their device if ever it goes missing.
• It strengthens Facebook privacy by scanning for privacy settings that expose user information.
• It lets users backup up to 50MB of personal data.
• It also protects kids from accessing inappropriate websites through filtering.
BPI card holders will also enjoy up to 50% off on other Trend Micro product purchases.
For more information on the free trial and discounts, visit: http://www.bpicards.com/BpiBuys/Items/109
Till next time!