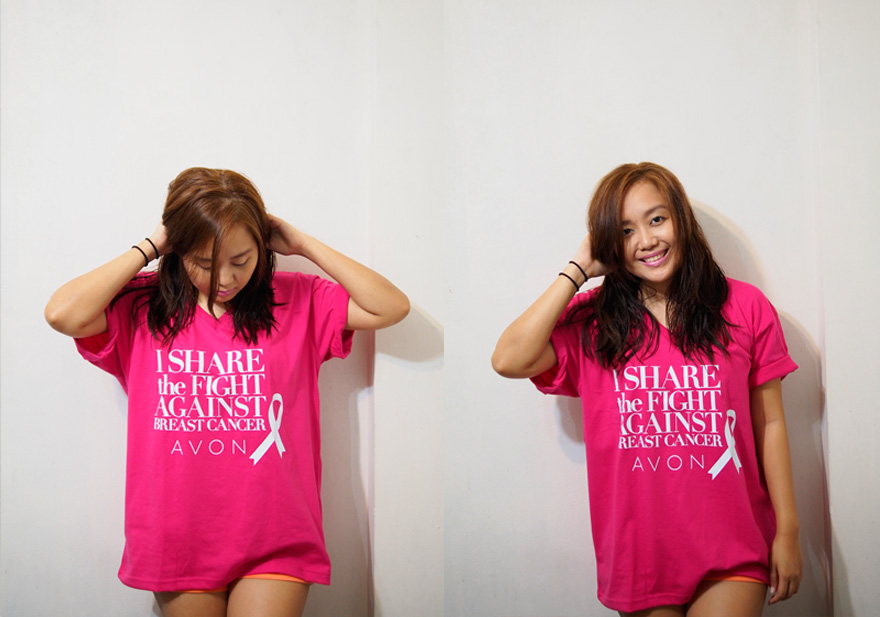 This post is a classic example of how something of absolute importance to you can get in the backseat and stay there until it might be too late. While there's still one more day to go and join the 10th year of Avon's Walk and Run for a Cause happening this Saturday, October 10 at the SM Mall of Asia Grounds, sometimes we take things for granted and forget to be vigilant about our health. This is wrong. This is a wake-up call. We should be aware of our bodies and our risks and we should do everything we can to help prevent any illnesses.
This month of October, Avon Philippines invites us to share in the fight and Kiss Goodbye to Breast Cancer. Join the campaign ambassadors actor Rocco Nacino and his mom, Linda Nacino, and Avon Fashions Intimate Apparel Celebrity Ambassador, Jennylyn Mercado on Saturday and let's raise awareness and contribute to the Philippine General Hospital Breast Care Center.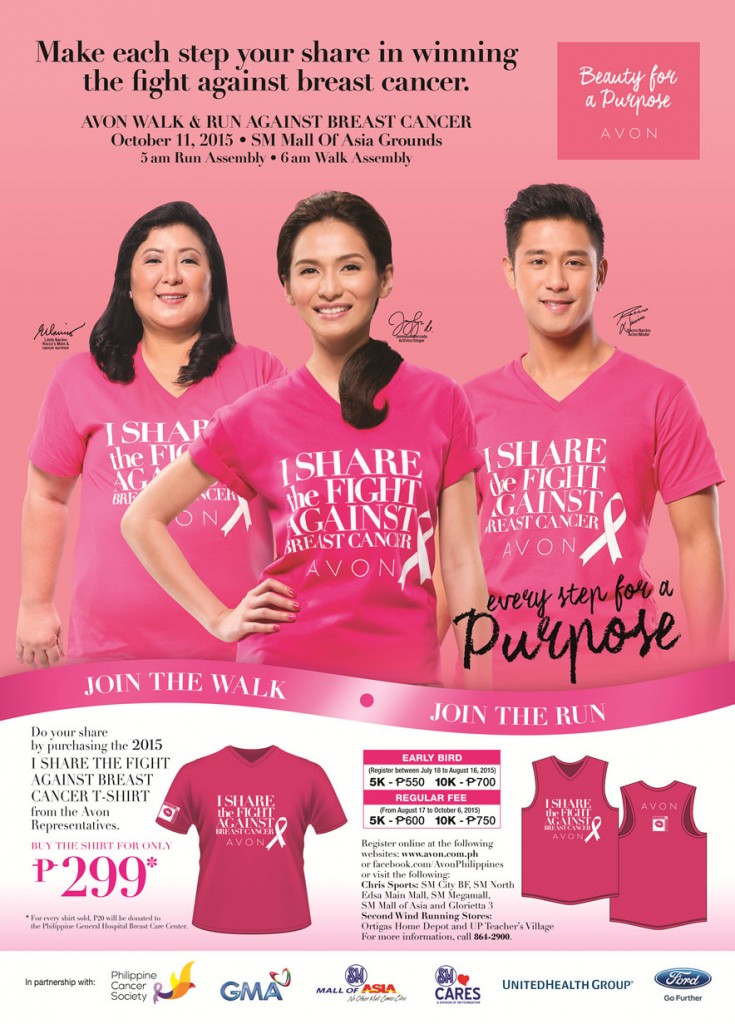 You can also share the fight with every purchase of these products from your Avon lady – Avon Fashions Pink Ribbon Underwire Bra, Over Nature Lipstick, and Skin So Soft (SSS) Soft & White Collagen Protector Whitening Hand & Body Lotion.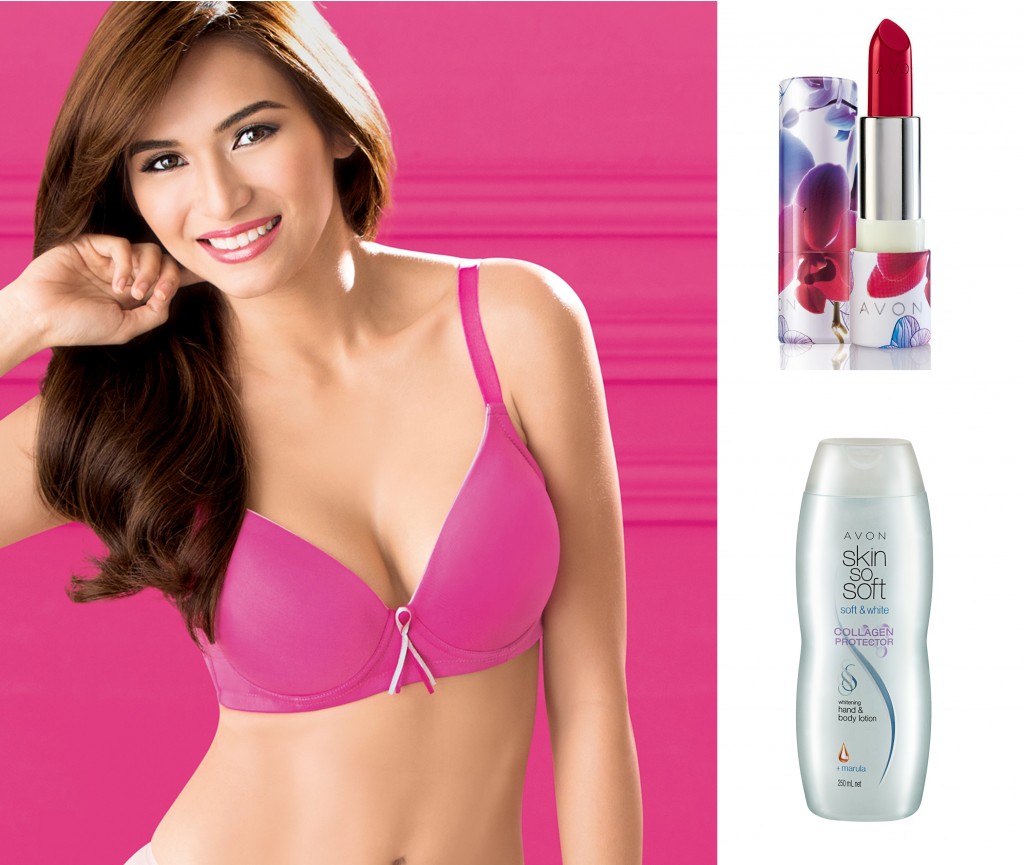 I'm wearing Avon Over Nature Lipstick in Tender Tulip in the photo below. You can also check out the other Over Nature Lipstick shades in our lipstick guide.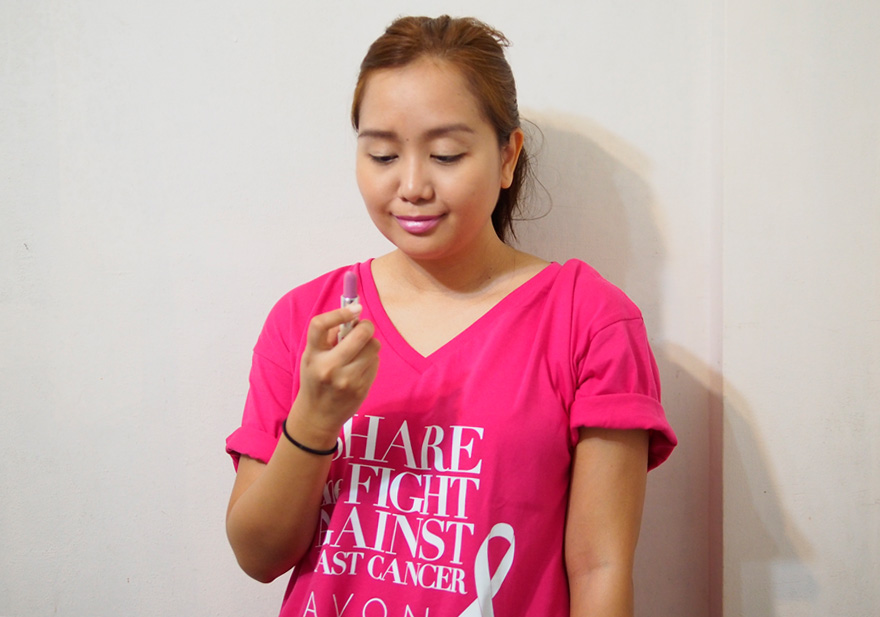 Avon Global also launched a dedicated site for the campaign which you can check out here – http://allforthebreast.avonfoundation.org/
And watch this video.
Let us all share the fight and kiss goodbye to breast cancer.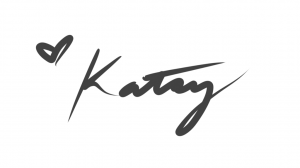 AVON INVITES EVERYONE TO SHARE THE FIGHT AGAINST BREAST CANCER
According to the Department of Health and the Philippine Cancer Society, breast cancer is the most common cancer in the Philippines. Globally, one out of eight women will be diagnosed with breast cancer. In the Philippines, one out of every 13 Filipino women can fall victim to this disease. Moreover, the Philippines has been identified as having the highest incidence rate of breast cancer in the whole of Asia.
These staggering statistics should serve as a reminder that the fight against breast cancer is far from over.
This 2015, Avon, the company for women, intensifies its Kiss Goodbye to Breast Cancer (KGBC) campaign in the Philippines with the theme, "I Share the Fight Against Breast Cancer." This year, more than ever, Avon believes that there's no greater purpose for men and women alike than to lend their strength, courage, and hope to back those affected by the disease.
A SHARED LUNCH
In an official campaign launch to the press recently, Avon Philippines unveiled its 2015 KGBC campaign through a shared lunch that resonated with hope, courage, and empowerment.
According to Faith Fernandez-Mondejar, Avon Head for Asia Pacific Communications and Philippines PR and Communications, "Avon's mission is to create a world with more empowered women, because empowered women bring more beauty to the world.  For close to 130 years, Avon has been all about empowering women around the world:  empowering women to achieve financial independence, and supporting the causes that impact women most, ending domestic violence, and of course, breast cancer."
Ms. Fernandez-Mondejar added, "Breast cancer advocacy is in Avon's DNA.  Our commitment to this cause is part of what defines who we are as a company. As our manifesto goes, 'Avon is the company that puts mascara on lashes and food on tables…the company that fights wrinkles with one hand and breast cancer with the other. Avon is more than just beauty, we are Beauty for a Purpose and this year, we invite everyone to share this sense of purpose in the fight against breast cancer." 
The press event became more poignant as KGBC Ambassadors Jennylyn Mercado and Rocco Nacino read aloud true stories of breast cancer patients.
Jennylyn also fortified her pledge to sell 20,000 Pink Ribbon Bras to support the cause. Proceeds of this specially designed intimate apparel will go towards maintaining the PGH Breast Care Center.
Jennylyn shared, "My being an Avon Fashions Intimate Apparel endorser has taken on a deeper sense of purpose with the Pink Bra. This is the first time that Avon is coming out with a brassiere as its fundraising product for the breast cancer cause. I call on my fans and friends to support this campaign through the purchase of the Pink Bra!"
The meaningful luncheon was capped off by an invitation from the mother and son tandem of Rocco and Linda Nacino. They, too, shared their personal contributions to the cause.
Rocco said, "Spreading breast cancer awareness is close to my heart because my mom is a survivor of the disease herself. On another note, volunteering to work at the PGH Breast Care Center recently was a humbling experience to say the least. I was able to extend a hand to the breast cancer patients there by doing charting, check-ups, and biopsies. I am really grateful to Avon for making this possible."
For her part, Linda undertook her very own "Piso Para sa Chemo" campaign as her personal share in the campaign. "At the moment, we have already been able to turn over P40,000 worth of cash donation to breast cancer patients at the PGH Breast Care Center. Thanks to the help of Rocco's fans, our friends, our family, who generously lent their support throughout this campaign."
WALK AND RUN FOR A CAUSE ON 10/10
Calling everyone regardless of gender, age and background to do their share, step up and step out for a purpose this October 10, 2015, Saturday, by joining the Avon Walk and Run events at the SM Mall of Asia Grounds.
This year marks Avon's first time ever to hold the event on a Saturday. October 10 notably commemorates 10 years of the Avon Walk in the Philippines – 10th year on 10/10.
To join the walk, simply purchase the 2015 I Share the Fight Against Breast Cancer T-shirt from the Avon Representatives. Portion from each shirt sold goes towards the maintenance of the PGH Breast Care Center.
Go the 5K and 10K distance! To join the run, enlist at Chris Sports outlets (SM City BF, Glorietta 3, SM Mall of Asia, SM City North EDSA, and SM Megamall), Secondwind Running stores (Ortigas Home Depot and UP Teacher's Village) or visit www.avon.com.ph. 
BRA, LIPSTICK, AND LOTION FOR A PURPOSE
To further intensify the drive for the breast cancer fund, other Avon fundraising products include the Avon Fashions Pink Ribbon Underwire Bra, Over Nature Lipstick, and Skin So Soft (SSS) Soft & White Collagen Protector Whitening Hand & Body Lotion.
Avon Fashions Pink Ribbon Underwire Bra – Show your support to the breast cancer crusade with this specially designed pink intimate apparel that fits flawlessly and comfortably.
Over Nature Lipstick – Bloom with a lush floral scent with any of the seven shades of Avon's Over Nature Lipstick – from Orchid Fantasy, Tropical Coral, Pink Lily, Tender Tulip, Extatique Hibiscus, African Daisy to Wild Rose.
Skin So Soft (SSS) Soft & White Collagen Protector Whitening Hand & Body Lotion – Say goodbye to dry, dull, sagging skin and uneven tones, with Avon's first ever formula designed to self-propel a 3-point skin system that intensely moisturizes, boosts collagen production and lightens skin, which instantly transforms skin to a younger, more rejuvenated look.
PARTNERS FOR A PURPOSE
Honored during the event were Avon's allies in the fight against breast cancer. To acknowledge their support, special Pink Ribbons were awarded to Philippine Cancer Society, Philippine General Hospital, GMA Network, SM Mall of Asia, SM Cares, Ford Philippines, and UnitedHealth Group.
Proceeds of the KGBC 2015 campaign will go to the PGH Breast Care Center.
Step out for a purpose and share in the fight against breast cancer!
About Avon 
Avon is the company that for more than 125 years has stood for beauty, innovation, optimism and, above all, for women. Avon, with nearly $9 billion in annual revenue, has products that are sold through 6 million active independent Avon Sales Representatives worldwide. Avon products include color cosmetics, skincare, fragrance, and fashion and home, featuring such well-recognized brand names as Avon Color, ANEW, Avon Care, Skin-So-Soft, and Advance Techniques. Learn more about Avon and its products at www.avoncompany.com.